International exercise Joint Warrior begins off Scotland
Navy ships taking part in the Royal Navy-led exercise Joint Warrior got underway from Faslane, Scotland, this week to start two weeks of drills in Scottish exercise areas.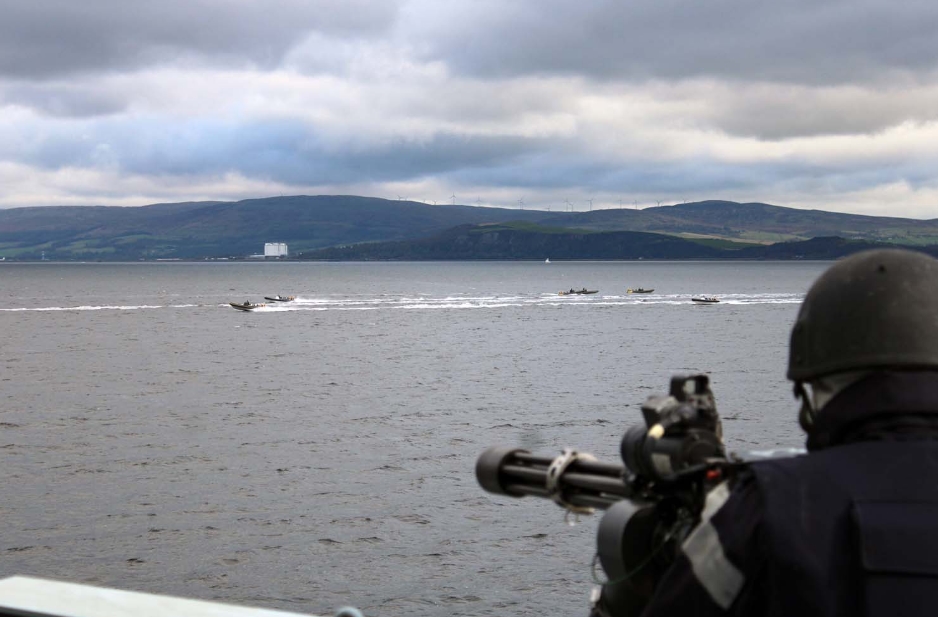 A dozen NATO nations are taking part with 16 warships, three submarines and nearly 60 aircraft, set to attend.
Overlapping with the broader Joint Warrior is the Griffin Strike exercise between the navies of France and the UK as part of a process to prepare for the Anglo-French Combined Joint Expeditionary Force which is expected to reach full operational capability in 2020.
Since 2010, the UK and France have been working together to develop the CJEF to be an early intervention able to deploy land, air and maritime components together and number over 10,000 people with a range of capabilities. It is designed to take on any future crisis that is of common concern to France and the UK.
The first maneuver of the exercise was the 'swarmex', a simulation of an assault by fast-moving speed boats.
"We really dialled up the complexity of this 'beat-'em-up' exercise – multiple fast-attack craft, the close proximity of land, our helicopter providing machine-gun support and a minehunter for us to protect – this is realistic and highly-valuable training," said Lieutenant Commander Tom Knott, second-in-command of Royal Navy frigate HMS Sutherland.
"It isn't as simple as bringing guns to bear, however. We must consider Rules of Engagement and the implications of opening fire versus the escalation of diplomatic tensions. It's tense but this is what the Fighting Clan thrives on."
NATO nations taking part in exercise Joint Warrior include Belgium, Canada, Denmark, France, Germany, Latvia, the Netherlands, Norway, Spain, Turkey the UK and the US. Japan and the UAE are also taking part in the exercise.