Royal Navy's Type 23 frigate HMS Montrose and French Cassard-class frigate FS Jean Bart made another drugs bust in the Arabian Sea operating as part of the Combined Task Force (CTF) 150.
The suspicious dhow was initially located by FS Jean Bart's helicopter and boarded by a team from the French ship who secured the vessel and conducted an initial investigation.
Royal Navy and Royal Marines personnel from HMS Montrose then took over the search of the vessel and the team located and seized a large number of packages containing the drugs.
In all, the crews intercepted 94 kgs of heroin and 76 kgs of crystal methamphetamine with a regional wholesale value of over a million US dollars.
This brings the total of drugs seized by CMF warships in 2019 to over 2,000kg of heroin, just over 130kg of crystal methamphetamine and nearly 50,000kg of hashish. Locally, this would equate to around over 46 million US dollars and is ahead of the total achieved in 2018 at this stage of the year. By the end of the 2018, CMF warships had seized narcotics worth over 75 million US dollars.
"We were conducting a Replenishment at Sea with a US Navy Tanker in the early morning when I received the news of the suspicious dhow; we were ready to commence a successful counter narcotics operation with the FS Jean Bart in the afternoon," commanding officer of HMS Montrose, Commander Ollie Hucker, said.
CTF 150 is a joint command shared between the Royal Navy and French Marine Nationale and is led by Commodore Ed Ahlgren of the Royal Navy, who took over in August of this year.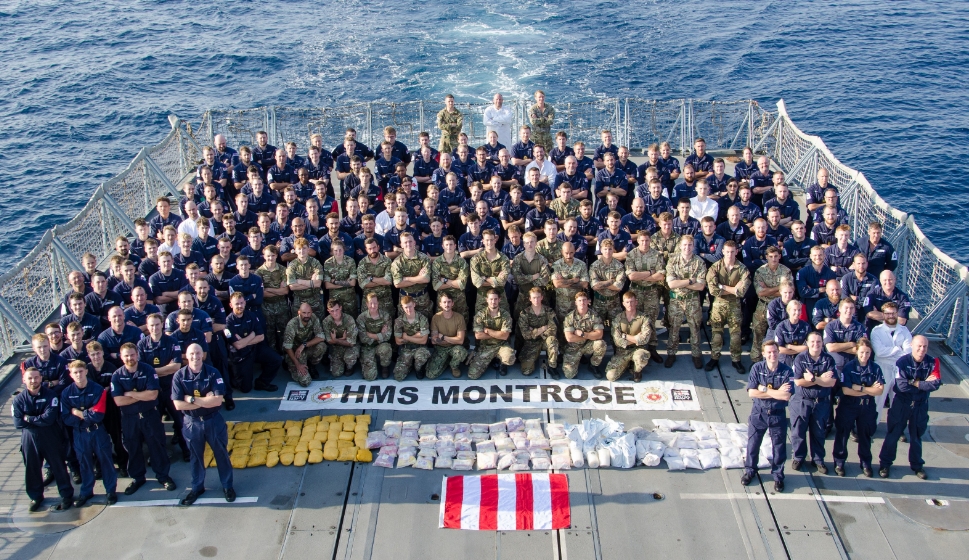 Photo: Illustration; Photo: CMF