Philippine Navy's second 2,600-ton frigate launched in South Korea
South Korean shipbuilder Hyundai Heavy Industries (HHI) has launched the Philippine Navy's second multi-dimensional frigate.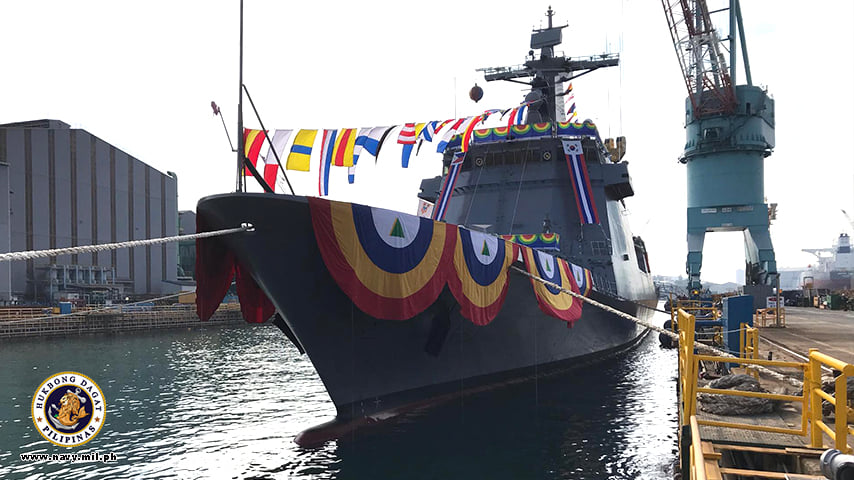 The launching ceremony for BRP Antonio Luna took place in Ulsan on November 8.
The 2,600-ton ship is part of the navy's two-unit Frigate Acquisition Project. The first ship, BRP Jose Rizal, was launched last May and is currently undergoing harbor trials. It is expected to be completed by the first quarter of 2020.
BRP Jose Rizal is slated for delivery in April or May 2020 and BRP Antonio Luna in September or October 2020.
Both ships are capable of engaging in the four dimensions of modern warfare, namely: Anti-Air Warfare (AAW), Anti-Surface Warfare (ASUW), Anti-Submarine Warfare (ASW) and Electronic Warfare (EW), and are fully equipped with Surface to Surface Missiles (SSM), Surface to Air Missile (SAM), and Torpedoes. The primary gun is 76mm Super Rapid Gun while the secondary is a 30mm gun. It also has chaffs and decoys as defense against incoming missile.
The two frigates are 107 meters long, have a beam of 14 meters and a hull draught of 4 meters.
"The acquisition of these missile frigates will strengthen the navy's capability to safeguard our maritime nation and territorial limits," the Philippine Navy said.