A task group of ships assembled around US Navy aircraft carrier USS Abraham Lincoln entered the Persian Gulf on November 19, following a transit through the Strait of Hormuz.
The Strait of Hormuz is one of the busiest shipping lanes in the world, with one-fifth of the world's energy supply transiting the strait annually.
The aircraft carrier is operating in the Persian Gulf after getting underway from its current homeport of Norfolk in April this year and entering the Middle East area of operations through the Suez Canal in May.
"A carrier brings immense capabilities wherever it goes," said Capt. Walter Slaughter, commanding officer of USS Abraham Lincoln (CVN 72). "We place ourselves where we need to be, when we need to be there, in order to meet the full range of maritime security requirements of the mission at hand."
With Abraham Lincoln as the flagship, deployed strike group assets include staffs, ships and aircraft of CSG 12, Destroyer Squadron (DESRON) 2, guided-missile cruiser USS Leyte Gulf (CG 55) and Carrier Air Wing (CVW) 7.
Once it completes its deployment, the carrier will arrive at its new homeport in San Diego after completing a mid-life overhaul at the Huntington Ingalls Industries' Norfolk Naval Shipyard.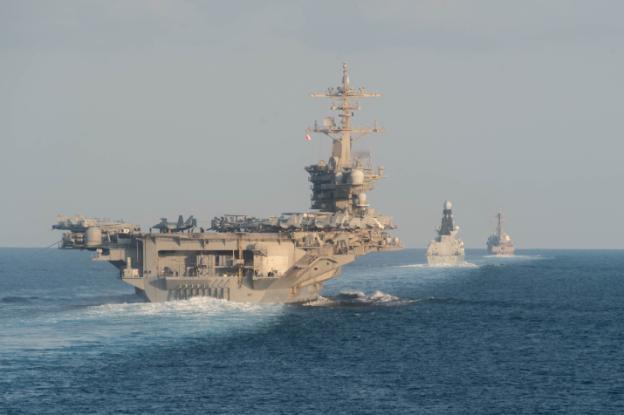 Related news
List of related news articles