Australia takes command of Combined Task Force 150
An Australian-led staff of the Royal Australian Navy, Royal New Zealand Navy and Royal Canadian Navy assumed command of the Bahrain-based Combined Task Force (CTF) 150 from the UK on December 5.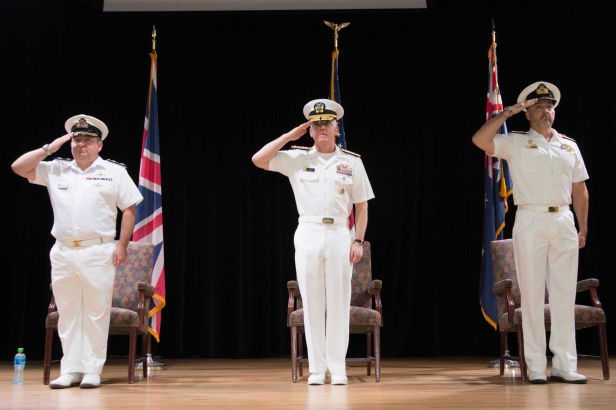 During a ceremony at the Combined Maritime Forces (CMF) Headquarters in Bahrain, command of CTF 150 was handed over to the Australian, New Zealand and Canadian team which is commanded by Cdre Ray Leggatt AM CSC RAN.
"We are fortunate that our Australian, Canadian, and New Zealand staff composition will bring valuable diversity in thinking and experience which will provide us with agility and unity of effort in the prosecution of our singular mission," Cdre Leggatt stated on assuming command.
The ceremony was presided over by Commander CMF, Vice Admiral James Malloy, United States Navy.
During the 119-day period of command, Maritime Security Operations (MSO) were conducted by Royal Navy, Marine Nationale, Pakistan Navy and US Navy assets.
The Royal Navy and Marine Nationale team have seized and destroyed nearly $2.5 million worth of illegal narcotics.
On handing over command, Commodore (Cdre) Ahlgren OBE RN, Commander CTF 150, said:
"The interdiction of a dhow on 11 Oct was unique in that it was achieved by a French ship finding and fixing the contact, with a British ship taking over to recover a significant amount of narcotics valued locally at over $1.1 million wholesale, many more times this in the markets of Europe or elsewhere."
"This inflicted a significant dent in the funding stream of illegal organisations, thus impacting on their ability to do us or others harm".
CMF is a multinational naval partnership which works with regional partners to ensure maritime security and stability. This partnership consists of three task forces that deal with a range of threats from non-state actors such as piracy and the smuggling of illicit materials.