USNS Puerto Rico delivered to US Navy
The US Navy has taken delivery of its 11th expeditionary fast transport (EPF) vessel, the future USNS Puerto Rico (T-EPF 11), from shipbuilder Austal USA.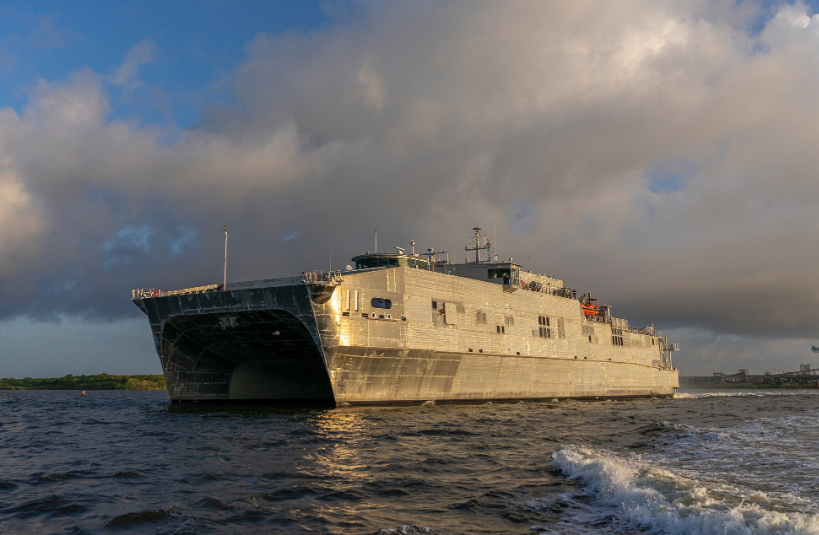 The delivery ceremony was held aboard the ship at Austal's shipyard in Mobile, Alabama, on December 10, 2019.
EPF 11 will be owned and operated by Military Sealift Command.
"We are excited to accept delivery of another versatile ship, further expanding the advantage of our civilian mariners at sea," said Capt. Scot Searles, Strategic and Theater Sealift program manager, Program Executive Office (PEO) Ships.
In August this year, Puerto Rico was the first EPF to perform and successfully complete integrated sea trials in the Gulf of Mexico.
Spearhead-class are all-aluminum shallow-draft hull, commercial-based catamarans capable of intra-theater personnel and cargo lift. They measure 103 meters in length and are designed to transport 600 short tons of military cargo 1,200 nautical miles at an average speed of 35 knots.
The ships of this type are capable of operating in shallow-draft ports and waterways, interfacing with roll-on/roll-off discharge facilities, and on/off-loading a combat-loaded Abrams main battle tank (M1A2).
Two additional Spearhead-class EPFs, USNS Newport (EPF 12) and USNS Apalachicola (EPF 13), remain under construction at Austal USA. In addition, Austal is under contract to build Independence-class littoral combat ships (LCS) for the US Navy.