Shaping the UK's future amphibious capability
Shaping the UK's future amphibious capability: Insights from Colonel Totten, Programme Director, Future Amphibious Force, Royal Marines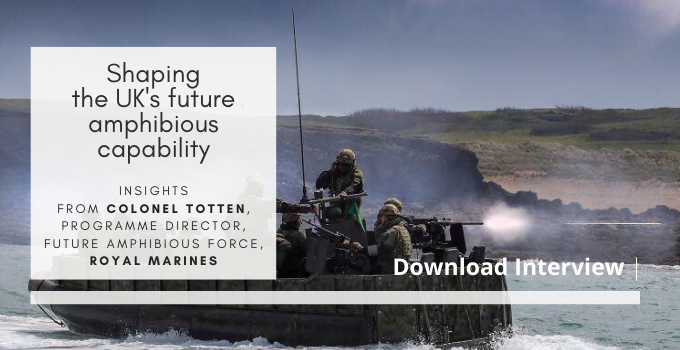 Download interview now to discover:
· Objectives of the Future Commando Force programme
· The main technical and operational challenges currently facing the Royal Marines worldwide
· Plans to overcome these challenges
· The importance of industry engagement and involvement in delivering the programme
The Royal Marines are currently undergoing a game-changing transformation programme, with the Littoral Strike and Future Commando Force projected to become a reality by the end of 2023. Utilising new technologies in order to be ready for future operational environments, the commando mindset is to be the first to understand, adapt and overcome.
Ahead of the Future Amphibious Force conference taking place between 31st March – 2nd April in London, and officially supported by the Royal Marines, Defence iQ gained exclusive insight from Colonel Mark Totten, Programme Director, Future Commando Force, Royal Marines. He outlines the objectives of the Future Commando Force programme, the threat posed by the A2AD threat and how he and his team are working to mitigate it. He also sheds light on the current challenges associated with securing a beachhead, his views on the U.S. Marine Corps' planning guidance and the need to engage with industry in order to fully exploit rapid developments in technology.
At the Future Amphibious Force conference, Colonel Totten will be participating in a panel discussion on shaping the UK's amphibious capability with Littoral Strike Operations and the Future Commando Force. The full conference agenda, which outlines all speakers and sessions is available for download here.
*Disclosure: This content is paid for and produced by IQPC UK and does not necessarily reflect the views of Naval Today.