France takes command of Combined Task Force 150
On March 19, 2020, Royal Australian Navy handed over command of Combined Task Force 150 (CTF 150) to a combined French/United Kingdom team.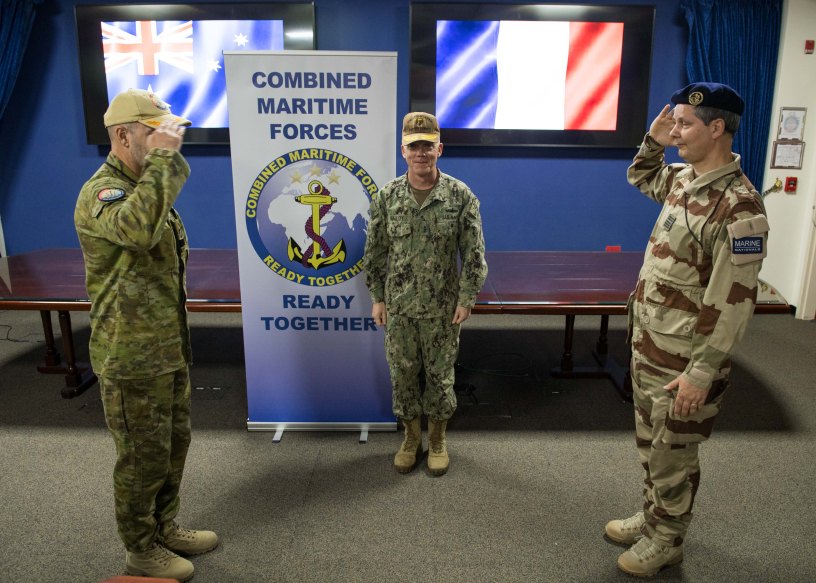 At a ceremony in Bahrain, the team led by French Marine Nationale Captain Jacques Rivière assumed command of CTF 150 from Australian Commodore (CDRE) Ray Leggatt.
Since Australia assumed command in December 2019 with a staff drawn from the Royal Australian, Royal Canadian, and Royal New Zealand navies, CTF 150 has conducted maritime security operations throughout the North Arabian Sea with the direct support of the Royal Australian Navy, France's Marine Nationale, the Pakistan Navy, the United Kingdom's Royal Navy and the United States Navy.
In all, ships working in direct support of CTF 150 from December 5, 2019, to March 19, 2020, conducted 20 boardings, resulting in 6 seizures, totaling 11.7 tonnes of drugs with an estimated regional wholesale value of USD 6.2 million.
By preventing drugs from reaching their likely destination on the streets of Africa or Europe, money is denied to criminals and terrorists who would use such funds to destabilize the region.
"We have had a very successful time here and we have advanced the mission of CTF 150 and CMF," CDRE Leggatt said.
"I'm proud and honoured to have been given the opportunity to lead this diverse team of professionals from Australia, Canada, and New Zealand and grateful for the tremendous support of Combined Maritime Forces."
CTF 150 as part of Combined Maritime Forces (CMF) is mandated to establish, promote and protect the freedom of navigation and free flow of commerce for all legitimate seafarers in an area of operations covering the Red Sea, Gulf of Aden, Indian Ocean and Gulf of Oman. CTF 150 seeks to deny the use of the high seas by those involved in terrorism and other illicit activities such as moving personnel, weapons or income-generating narcotics and charcoal.