Japan welcomes lead Maya-class destroyer
The Japan Maritime Self-Defense Force (JMSDF) has taken delivery of the first of two Maya-class ballistic missile defense destroyers.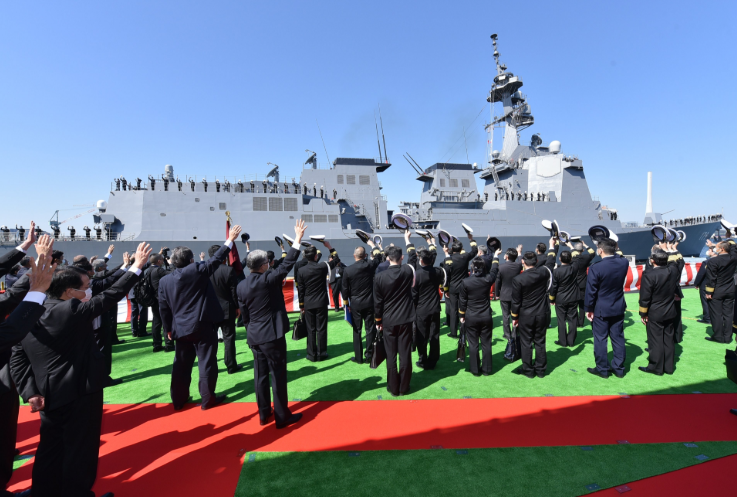 The 172-meter-long Maya (DDG-179) was handed over to JMSDF by shipbuilder Japan Marine United Corporation (JMUC) at Yokohama Shipyard Isogo Works on March 19.
The Aegis-equipped ship – named after a mountain in Kobe and a WWII heavy cruiser — was launched back in July 2018.
19 MAR, the Ship Commissioning Ceremony for JS MAYA (DDG 179) were held at Isogo Works, Yokohama Shipyard, Japan Marine United Corporation. MAYA is 7th Aegis Destroyer which has advanced any capabilities such as Air Warfare and Anti-Submarine Warfare. pic.twitter.com/NcbRSoVsyi

— Japan Maritime Self-Defense Force (@jmsdf_pao_eng) March 19, 2020
The second destroyer, JS Haguro, was launched in July 2019 and is planned to be delivered in 2021.
The Maya-class displace 8,200 tons and carry SM-3 Block IIA and SM-6 interceptors for the ballistic missile defense role, in addition to SM-2 and the Evolved Sea Sparrow Missile (ESSM).
The ships' main gun is an Mk-45 Mod 4 naval gun in a stealth-shaped casing. With the new class of ships, Japan is also set to join Australia and the US in fielding the CEC  – a sensor data sharing tool currently found only on US and Australian Navy ships.
Naval Today Staff