Iranian boats approach US Navy, Coast Guard vessels in Gulf
On April 15, eleven vessels from the Iranian Islamic Revolutionary Guard Corps Navy (IRGCN) approached the US Navy and US Coast Guard (USCG) vessels in the Gulf, the US 5th Fleet said.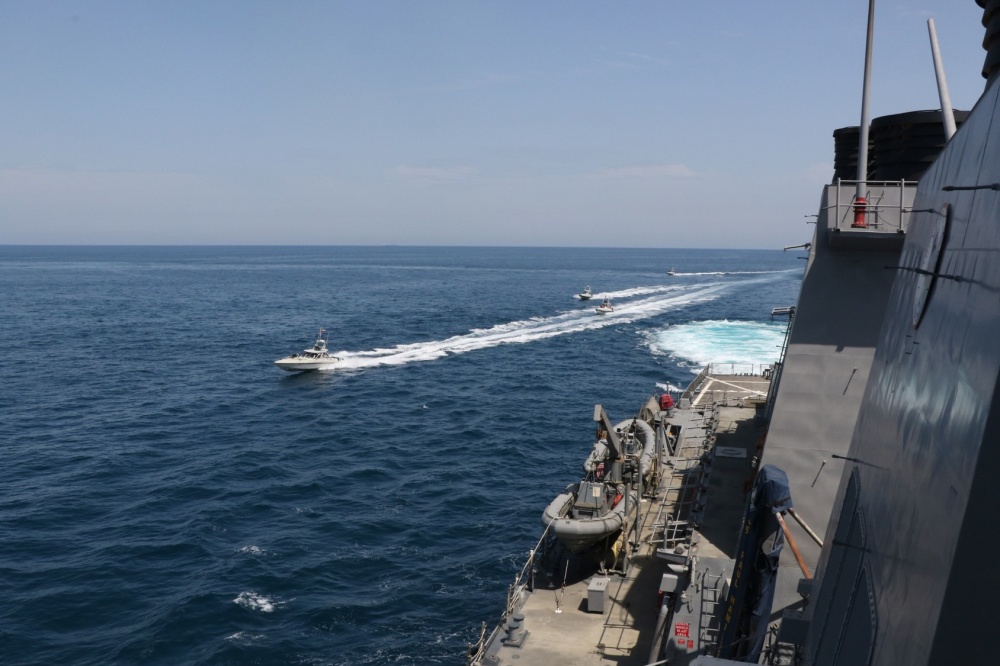 At the time of the incident, the US vessels USS Lewis B. Puller (ESB 3), USS Paul Hamilton (DDG 60), USS Firebolt (PC 10), USS Sirocco (PC 6), USCGC Wrangell (WPB 1332) and USCGC Maui (WPB 1304) were conducting joint integration operations with US Army AH-64E Apache attack helicopters in the international waters of the North Arabian Gulf, according to a statement issued by the US Navy.
"The IRGCN vessels repeatedly crossed the bows and sterns of the US vessels at extremely close range and high speeds, including multiple crossings of the Puller with a 50 yard closest point of approach (CPA) and within 10 yards of Maui's bow," the statement reads.
"The U.S. crews issued multiple warnings via bridge-to-bridge radio, five short blasts from the ships' horns and long-range acoustic noise maker devices, but received no response from the IRGCN."
Video of #IRGCN vessels conducting dangerous & harassing approaches on U.S. naval vessels in the international waters of the North Arabian Gulf. pic.twitter.com/zL9VKQ0eiQ

— U.S. 5th Fleet (@US5thFleet) April 15, 2020
"After approximately one hour, the IRGCN vessels responded to the bridge-to-bridge radio queries, then maneuvered away from the US ships and opened distance between them." 
The US forces have been conducting joint interoperability operations in the North Arabian Gulf since late March.
The incident comes amid heightened tensions between the two countries. In January, General Qassem Soleimani, the head of the Iranian Islamic Revolutionary Guard was killed by the US in a drone strike in Iraq. Following his assassination, Iran responded with a rocket attack on Iraqi military bases where American forces were positioned. Additionally, economic sanctions imposed by the US are negatively affecting Iran which is currently battling the coronavirus pandemic.
Earlier this week, a Hong Kong-flagged commercial ship was boarded by unidentified armed men in the Gulf of Oman and taken into Iranian waters. Although no one claimed responsibility for taking over the tanker, many accused Iran of attacking the vessel.