New contracts awarded for Royal Navy's Type 31 frigates
A new round of supply chain contract awards has been announced in relation to the Royal Navy's new Type 31 general purpose frigate program.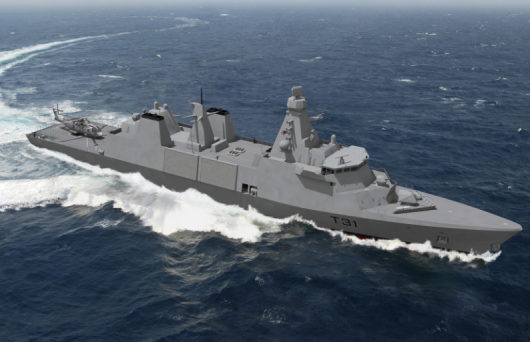 ---
The program is led by Babcock International and will provide the navy with a fleet of five new frigates.
Construction of the vessels will take place at Babcock's Rosyth, Scotland-based yard. The first unit is planned to be launched in 2023.
As informed, Rolls-Royce is now a major supplier to the program with its brand MTU, delivering the main engines and diesel generators for the frigates, which will be manufactured in Germany.
Renk will provide the main reduction gearboxes, and MAN Energy Solutions will supply the propellers and propeller shaft lines.
In addition, Blunox are contracted to supply the exhaust environmental equipment that significantly reduces emissions from the main engines and diesel generators. Combined with the subcontract placed with Darchem Engineering Ltd, it will supply the intake and exhaust systems for the main engines and generators, rounding out the key propulsion system subcontracts.
Additionally, the chilled water plant subcontract has been awarded to Novenco AS, which will provide critical system capability for the HVAC system.
"Team 31 have committed to a programme of investments to deliver prosperity in line with the National Shipbuilding Strategy.  We are delighted to welcome these key suppliers to the supply chain for the Type 31 frigate programme, and we continue to engage with additional suppliers to support this exciting programme for Babcock and the Royal Navy," Sean Donaldson, Managing Director for Energy & Marine, said.
In a separate announcement, Lloyd's Register (LR) said it has been selected to provide naval assurance services for the UK's Type 31 frigate program. The five vessels will be designed and constructed to LR's Naval Ship Rules.
During the first phase of the programme LR will provide design assessment and support, which will result in formal appraisal of the Type 31 design in 2020. During the later phases of the program, LR will assist Babcock to ensure it is fully integrated with the shipyard's digital acceptance systems and that supply chains effectively implement project requirements for equipment certification.
Arrowhead
The Arrowhead 140 was the preferred design for the Type 31 frigate program announced in September 2019.
It is a general-purpose, light frigate developed by Team 31, led by Babcock International as prime for the Type 31 program, comprising Thales UK, BMT and OMT.
The design of the Type 31 is based on Odense Maritime Technology's (OMT) 'Iver Huitfeldt class' hull form, which is currently in service with the Royal Danish Navy.