China: Second Type 075 amphibious assault ship launched
China is moving forward with its efforts to expand navy capabilities as the country launched its second amphibious assault ship.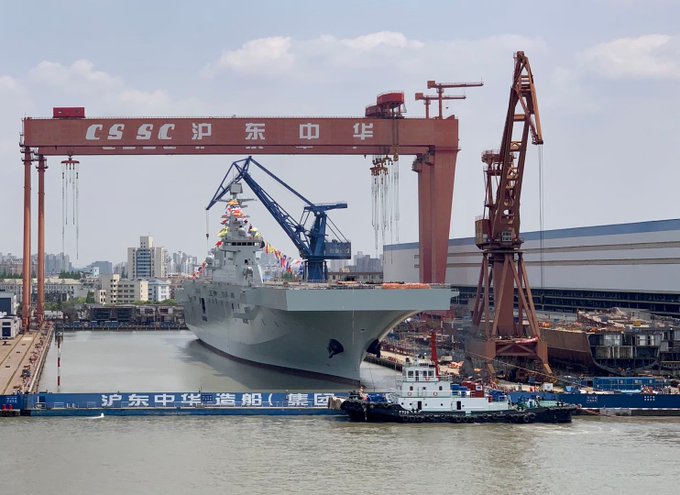 The launching ceremony for the second Type 075 landing helicopter dock (LHD) being built for the People's Liberation Army Navy (PLAN) took place at Hudong-Zhonghua shipyard on April 22, part of the China State Shipbuilding Corporation (CSSC).
An aerial footage of the launching process. pic.twitter.com/H8IOPf918T

— dafeng cao (@dafengcao) April 22, 2020
It was held just a day before the navy celebrated its 71st founding anniversary. The PLA Navy was founded on April 23, 1949, in the Jiangsu province.
In September last year, the first newbuild of this type was splashed in Shanghai. The second LHD has now been placed next to its sister vessel.
The new class of ship builds upon the smaller Type 071 landing platform dock (LPD) which is already in service with PLAN.
The new ships are said to displace up to 40,000 tons, coming close to US Navy's Wasp- and America-class amphibious ships that can operate over 20 aircraft, depending on the mission and complement. They are capable of conducting amphibious combat and other missions.
The ships have four aircraft elevators to facilitate the operation of up to 30 helicopters.
Naval Today Staff