Germany: Lürssen, German Naval Yards unveil merger plan
German Naval Yards Kiel and Lürssen have decided to merge their respective businesses, marking a new era of the German naval shipbuilding industry.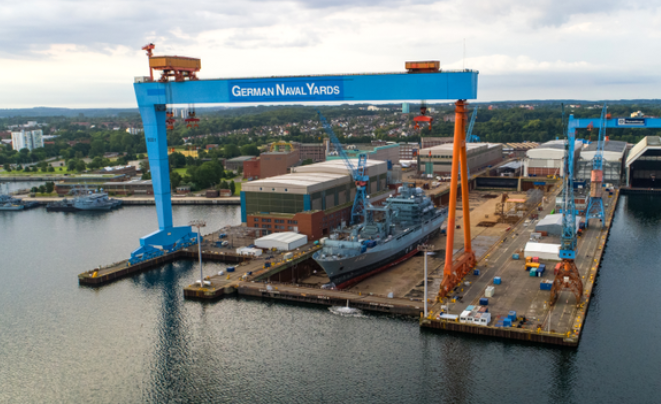 As informed, the existing activities in military and naval surface vessel building will be incorporated into a joint venture company led by Bremen-based Lürssen Group.
The aim is to improve the national industrial base and strengthen efficiency and sustainability, according to German Naval Yards Kiel.
Earlier this week, owners of both shipyards laid the foundation for a final JV agreement.
The proposed merger is subject to approval by relevant merger control authorities.
Specifically, the combination addresses the German public customer's request to establish industrial structures that guarantee reliable domestic availability and an efficient cost structure. Apart from building highly innovative naval ships, this also includes their repair and maintenance throughout the entire product life cycle.
The merger is said to be in line with the government's aim to have an "effective and competitive German and European security and defense industry", without being dependent on third states outside the EU.
Earlier this year, the German government published a "Strategy Paper of the Federal Government of Strengthening the Security and Defence Industry" where it declared intention to "work towards increased industrial consolidation within Europe and do what it can to support the necessary processes to promote economic synergies and coherence". European cooperation and greater Europe-wide integration of the German security and defense industry could be important steps in this direction, according to the government.
The strengthening of the domestic naval shipbuilding industry through a combined entity between Lürssen and German Naval Yards Kiel meets these objectives and further strengthens the ability of Northern German shipyards and the domestic maritime supply industry to successfully compete on a global scale, German Naval Yards said.
"The consolidation in Germany is long overdue. Germany has first-class naval yards and excellent technologies. However, our customers require partners with sufficient scale and capabilities to fulfill large-scale orders of strategic importance. Our customers can be better served if domestic players join forces," Iskandar Safa, CEO of Privinvest Holding SAL, the ultimate parent company of German Naval Yards Kiel GmbH, commented.
 "We are convinced that the consolidation of our naval shipyards has significant strategic merit and will strengthen their competitiveness in the future," Friedrich Lürßen, shareholder of the Lürssen Group, said.
Can MKS 180 construction move forward?
The German Government, represented by their Maritime Coordinator, Norbert Brackmann, MdB, was involved in the merger talks from early stages on.
In a separate statement, he expressed his hopes that the construction of Germany's MKS 180 multipurpose combat ships can now move forward because the "navy is waiting for these ships".
Lürssen and German Naval Yards Kiel were rivals in the tender for the construction of MKS 180 units. In January, Germany's Federal Ministry of Defense selected Dutch shipyard Damen Schelde Naval Shipbuilding, together with its partners Blohm+Voss — part of the Lürssen Group — and Thales.
German Naval Yards, which was among top bidders for the warship construction, challenged the decision by the defense ministry and submitted a formal complaint and later a review application to a relevant authority.
The consolidation could now resolve this conflict and prevent further delays in the award decision.
Naval Today Staff