Egyptian Navy launches its fourth Gowind 2500 corvette
The Egyptian Navy's fourth Gowind 2500 corvette, ENS Luxor (986) has been launched at the Alexandria shipyard (ASY).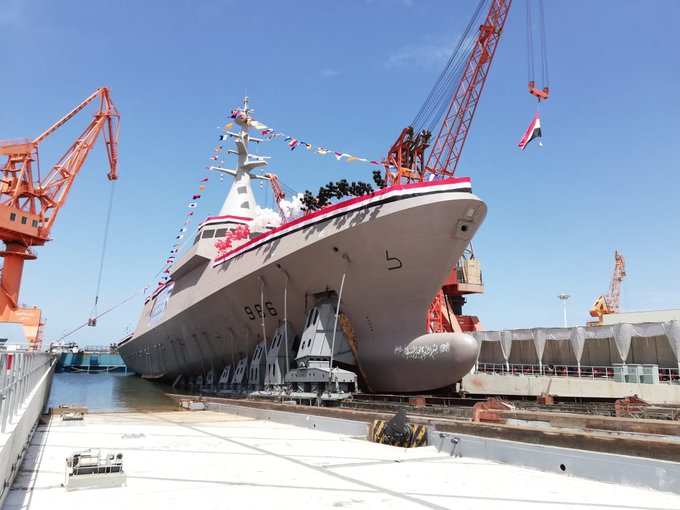 Luxor is the fourth unit in the class and the third ship to be built locally in Egypt as part of an industrial cooperation between Egypt and French shipbuilder Naval Group.
Congratulation to our partner ASY for launching the #Luxor today! ⚓️?? With the #Gowind program ASY has upskilled from a civilian shipyard to being able to achieve complex military qualifications and high-quality results thanks to the cooperation with Naval Group's local teams. pic.twitter.com/U6rpT3wJod

— Naval Group (@navalgroup) May 14, 2020
The delivery comes exactly one year after the third Gowind 2500 corvette, Al-Moez (981), was splashed at the abovementioned shipyard.
Back in 2017, Naval Group delivered ENS El Fateh, the first Gowind unit built in France, to the Egyptian Navy. In 2018, Port Said (976) became the first warship built and launched in Egypt.
Displacing 2,600 tonnes, the ships are crewed by 80 persons — including the helicopter detachment — and can reach a speed of 25 knots.
With a length of 102 meters, the corvettes are equipped with the SETIS combat system and the Panoramic Sensors and Intelligence Module (PSIM) in addition to a 76mm Oto Melara gun, vertical launch cells for MBDA's MICA missile and torpedo launchers.
The launching of the #Luxor, the 4th #Gowind corvette shows the impressive capabilities of Alexandria shipyard. ??⚓️ https://t.co/bdVoiBKm3W pic.twitter.com/dA1ygYiuF7

— Naval Group (@navalgroup) May 14, 2020
During the ceremony on May 14, Mohamed Zaki, the country's defense minister, also inspected the S-43 submarine, which arrived in Alexandria earlier this month. The newbuild, which is the Egyptian Navy's third of four Type 209/1400 submarines, was delivered to the navy by German shipbuilder and submarine specialist thyssenkrupp Marine Systems in April 2020.
Naval Today Staff