Navantia, Harland & Wolff to jointly bid for UK's Fleet Solid Support ships
Spanish shipbuilder Navantia and its UK-based counterpart Harland & Wolff have signed an 'exclusive' teaming agreement in an effort to jointly bid for the Fleet Solid Support (FSS) program of the Royal UK Navy.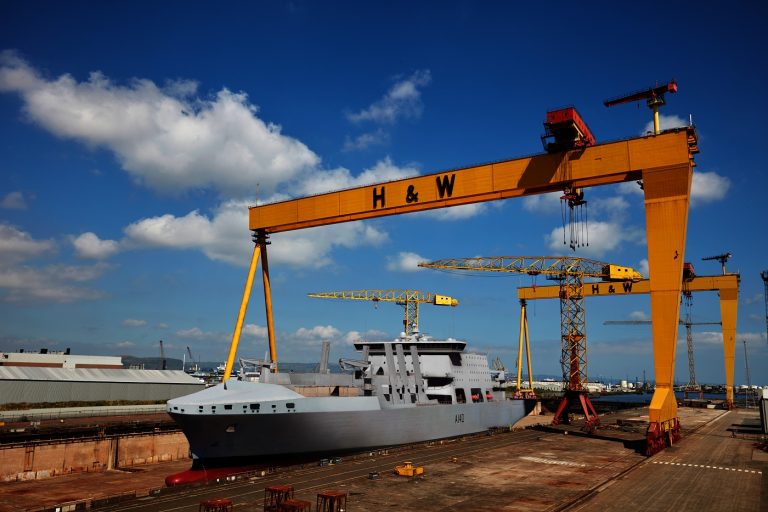 As informed, the partnership will operate under the name, Team Resolute. Beyond FSS, Team Resolute will pursue opportunities within the UK defence sector, including modernizations and retrofits.
Tender details for the FSS program are expected to be released by the UK Ministry of Defence in the forthcoming months. The program will likely consist of at least two vessels based on last year's parameters with the possibility of a third vessel.
"This partnership has the capability to disrupt the UK Defence ship-building and through-life support duopoly that currently exists, as well as providing much needed competition in the defence sector," John Wood, CEO of Harland & Wolff's owner InfraStrata, commented. InfraStrata completed the acquisition of the shipyard last year.
"It is clear that under a new management team, Harland & Wolff is a shipyard that is forward-thinking, agile and ready to do business. We are excited about this new collaboration and the opportunities it will bring for both partners," Abel Méndez, International Defence & Security Director of Navantia, said.
Team Resolute
According to Harland & Wolff, the partnership with Navantia will help create a more level playing field when competing for upcoming defence contracts.  
"In Navantia, we see a long-term partner not only within the defence sector, but also in the offshore wind farm sector for fixed and floating foundations, for which we are already in advanced teaming agreement discussions. These teaming agreements are in relation to a series of specific projects in UK waters that have already been identified as commercially viable and that play to the, fabrication, assembly, lifting capacity and storage space strengths that both partners carry," Harland & Wolff said.
Navantia already delivers naval and support ships to governments around the world, including four different programs for the Royal Australian Navy, culminating in 19 ships. Local partnerships were established to develop and operationalize an effective Australian supply chain, just as Navantia has also done for the Norwegian and Turkish naval programs. In total Navantia has delivered 40 ships over the last 5 years.