Video: Saudi Navy's 1st Avante 2200 corvette launched in Spain
Spanish shipbuilder Navantia has launched Al Jubail (828), the first of five Avante 2200 corvettes being built for the Royal Saudi Naval Forces (RSNF).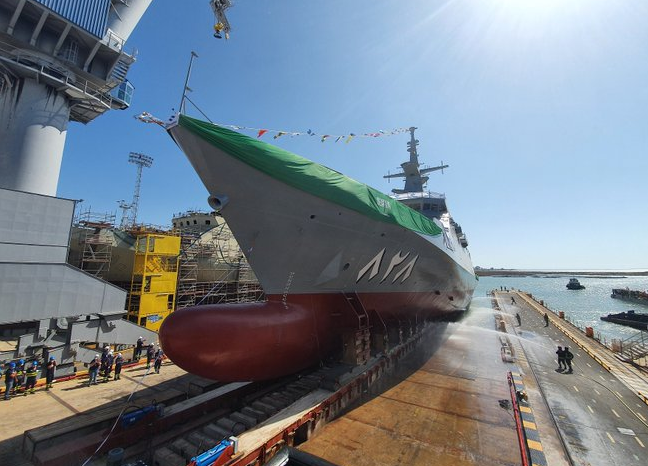 The launching ceremony was held at the San Fernando shipyard on July 22.
According to Navantia, the corvette was completed successfully despite the slowdown in activity caused by the COVID-19 pandemic. When it comes to Al Jubail's sister vessels, the objective is to meet the initial milestones, Navantia pointed out. The second corvette is slated for delivery in November 2020.
Al Jubail features a length of 104 meters, a beam of 14 meters and will be able to accommodate 102 people. It can reach a maximum speed of 27 knots and has the capacity to carry 21-day supplies on board.
The ships are built by SAMI Navantia Naval Industries (SAMINavantia), a joint venture between Saudi Arabian Military Industries (SAMI) and Navantia S.A.
Spain and Saudi Arabia finalized Avante 2200 corvette deal in April 2018. The deal is worth around EUR 2 billion.
During the ceremony, Vice Admiral Fahad Bin Abdullah Al-Ghofaily, Commander of RSNF, highlighted the importance of ALSARAWAT Project, contracted to Navantia, as one of the largest capability-acquisition programs for the RSNF which is said to reflect a strong strategic relation between Kingdom of Saudi Arabia and the Kingdom of Spain and enlarges the cooperation between the RSNF and Spanish Navy in shipbuilding, education and training.
The Commander of RSNF also indicated that the success of this project is a key factor for ambitious future projects and an enduring partnership.
In addition to the construction of the vessels, the Avante 2200 project will encompass life cycle support for five years from the delivery of the first vessel, with an option for an additional five years.
The contract also includes the supply of various services such as integrated logistical support, operational and maintenance training, supply of training and training centers for the combat system and platform control system for ships, support to the life cycle, previously mentioned, and the systems for the maintenance of ships in the RNSF Jeddah Naval Base.
Specifically, the corvettes incorporate Navantia products, such as the CATIZ Combat System, DORNA Gun Fire Control System, NAVCOMS/HERMESYS Integrated External and Internal Communications System, MINERVA Integrated Navigation and Bridge System, or COMPLEX-SIMPLEX Integrated Platform Management Platform together with equipment manufactured by Navantia under license such as the Leonardo SUPER RAPID 76mm main gun, Rheinmetall Air Defence MILLENNIUM 35mm close-in weapon system, MTU propulsion engines and diesel generators, and RENK gearboxes.
The fifth and final corvette is expected to be delivered to the Royal Saudi Navy in 2024.