The US Navy's newest Independence-variant littoral combat ship (LCS), the future USS Savannah (LCS 28), was christened at Austal USA's ship manufacturing facility in Mobile, Alabama on 29 August 2020.
Dianne Isakson, wife of former U.S. Senator John Isakson, served as the ship's sponsor. She christened the ship by breaking a bottle of sparkling wine across the bow.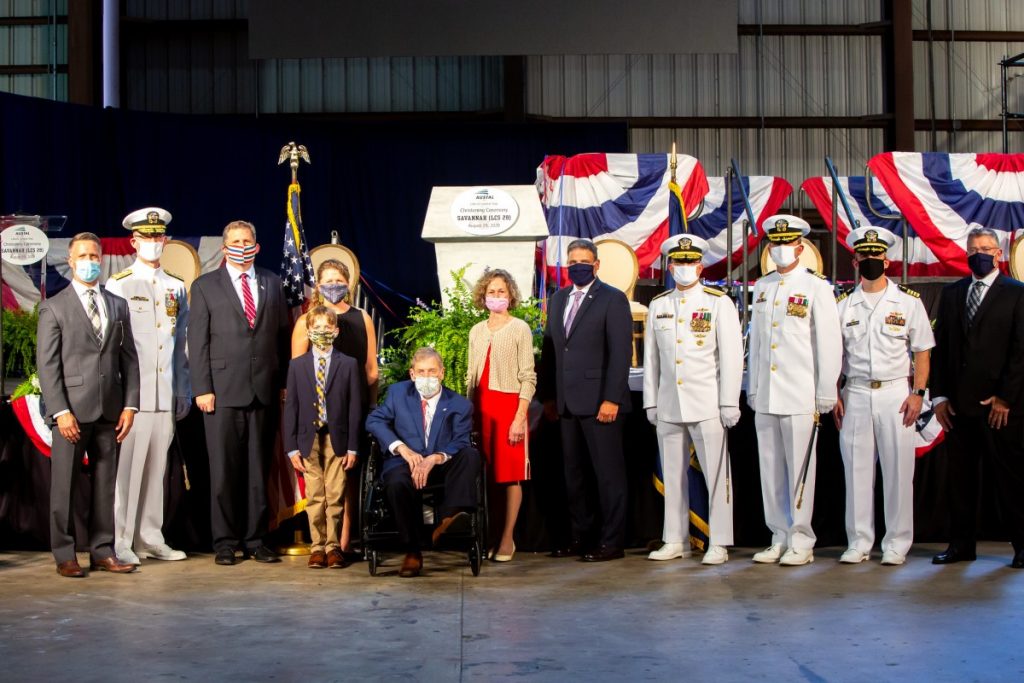 "Today we christened the sixth USS Savannah following an outstanding record of service named for a great American city. In so doing we move one step closer to welcoming a new ship to naval service and transitioning the platform from a mere hull number to a ship with a name and spirit," Kenneth J. Braithwaite, Secretary of the Navy, commented.  
LCS 28 is the 14th Independence-variant LCS and 28th in class. It is the sixth ship named in honor of the city of Savannah, according to the US Navy. 
The LCS class consists of two variants, the Freedom-variant and the Independence-variant, designed and built by two industry teams. The Freedom-variant team is led by Lockheed Martin in Marinette, Wisconsin (for the odd-numbered hulls). The Independence-variant team is led by Austal USA in Mobile, Alabama, (for LCS 6 and the subsequent even-numbered hulls).
The Independence-class LCS is a fast, agile, focused-mission platform designed for operation in near-shore environments, yet it is also capable of open-ocean operation. It is designed to defeat asymmetric "anti-access" threats, such as mines, quiet diesel submarines and fast surface craft. The 127-metre high-speed trimaran hull warship integrates new technology and capability to support current and future mission capability from deep water to the littorals.
Five LCSs are presently under various stages of construction at Austal USA's Mobile, Alabama shipyard; the future USS Mobile (LCS 26) is preparing for sea trials; assembly is underway on the future USS Savannah (LCS 28) and USS Canberra (LCS 30); while modules for the future USS Santa Barbara (LCS 32) and USS Augusta (LCS 34) are under construction in the module manufacturing facility (MMF). The future USS Kingsville (LCS 36) and USS Pierre (LCS 38) are under contract.