Sri Lanka, Indian navies battle fire on board tanker off Sri Lanka coast
The Sri Lanka Navy and the Indian Navy are jointly working to put out the fire onboard a tanker off the coast of Sri Lanka, assisted by the Sri Lanka Ports Authority, Sri Lanka Airforce and the Indian Coast Guard.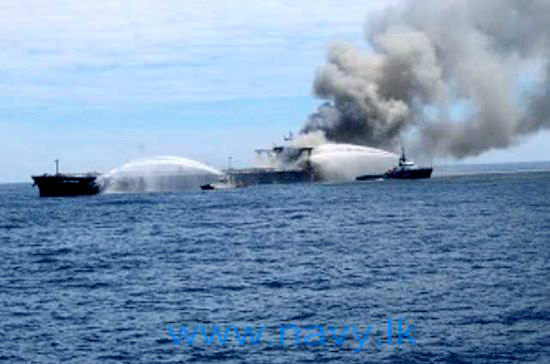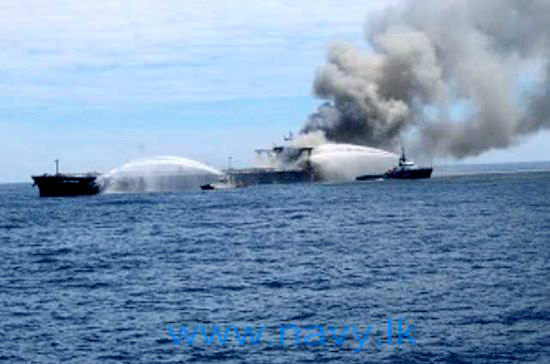 The Panama-flagged oil tanker MT New Diamond, carrying 270,000 tonnes of crude oil, caught fire on September 3 while sailing off Sangamankanda Point. The fire started following an explosion of a boiler in the main engine room of the ship.
One crew member died and the remaining 22 men, who were aboard the ship, have been evacuated.
An MI 17 helicopter of the Sri Lanka Air Force has been carrying out a number of aerial operations to contain the raging flames by spilling water on the ship. Meanwhile, another craft is conducting periodic air surveillance to spot the spread of fire remaining and render necessary assistance.
Further, Sri Lanka Navy ships SL Sayura, Sindurala and Ranarisi with two fast attack craft continue to conduct disaster relief operations and cool down the fire-stricken vessel. Two anti-submarine vessels of the Russian Federation are also participating in the relief operation.
What is more, the Indian Coast Guard ship Shaurya, another coast guard vessel and three Indian Navy ships have been sent to the scene.
"Meanwhile, the spread of fire from the superstructure at the rear of the ship towards the crude oil storage facilities has been contained to a greater extent," the Sri Lanka Navy said.
"Since the spread of fire on this ship has been controlled without allowing it to reach the oil storing areas, there is no risk of oil leakage from the vessel to the sea so far."
Arrangements are being made to tow the ill-fated oil tanker away from the shore towards the deep sea, as soon as the fire onboard gets under control. The distressed vessel lies about 22 nautical miles (35 kilometers) off the coast as of now.