Royal Navy fleet supported by new small diesel engine contract
A £5.5 million (around $7.1 million) contract to provide support for small diesel engines onboard critical Royal Navy vessels, including amphibious assault ships and mine hunters, has been placed by the UK Ministry of Defence (MOD).
The five-year contract was negotiated by the Marine Diesel Group within Defence Equipment and Support (DE&S), the procurement arm of the MOD.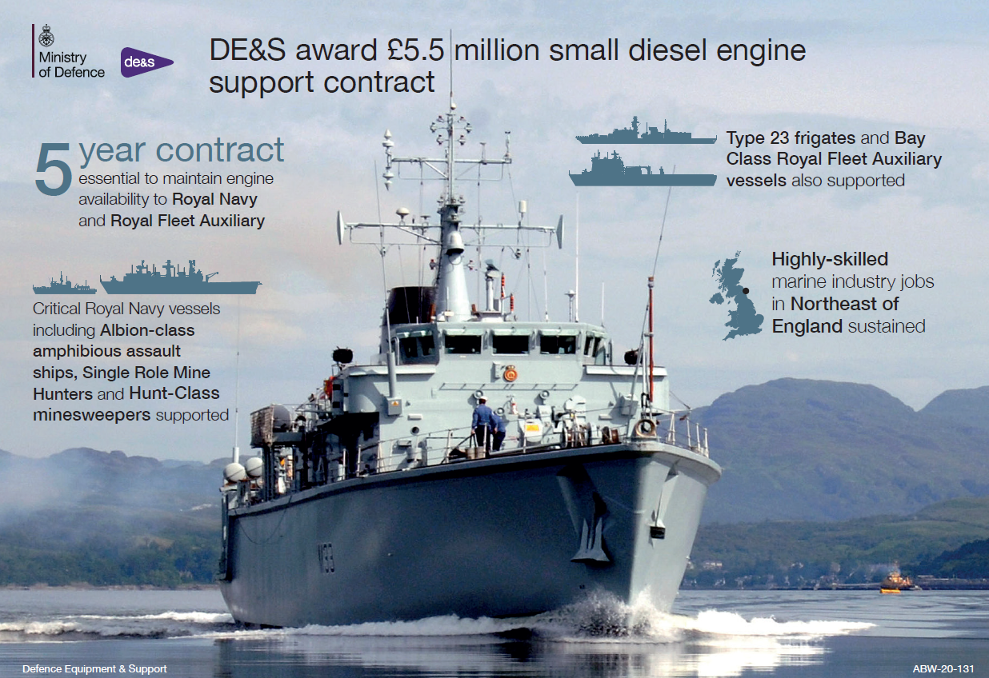 Under the terms of the contract, Royston Diesel Power in Newcastle will be responsible for providing diesel engine spares and technical support as well as repairing and refurbishing the engines where required.
As explained, small diesel engines are fitted alongside larger engines to vessels throughout the Royal Navy and Royal Fleet Auxiliary (RFA) including Type 23 frigates, single role mine hunters, Albion-class amphibious assault ships and Bay-class RFA, and are the main engines to vessels like the Hunt-class minesweepers.
They are key to providing either electrical or propulsion power to the ships to which they are fitted. An effective support contract is essential to maintain engine availability to the Navy and RFA, DE&S said.
"This £5.5-million contract will maintain and support the vital small diesel engines of our Royal Navy fleet. The five-year agreement will also secure highly-skilled work in the north-east's marine industry, highlighting the region's contribution to UK defence," Jeremy Quin, Defence Minister, said.