Canadian Coast Guard welcomes final OFSV newbuild
Last week, Seaspan Shipyards officially delivered CCGS John Cabot, the third offshore fisheries science vessel (OFSV) to the Canadian Coast Guard.
The delivery ceremony took place at Seaspan's Victoria shipyard on 9 October, in compliance with strict COVID-19 protocols.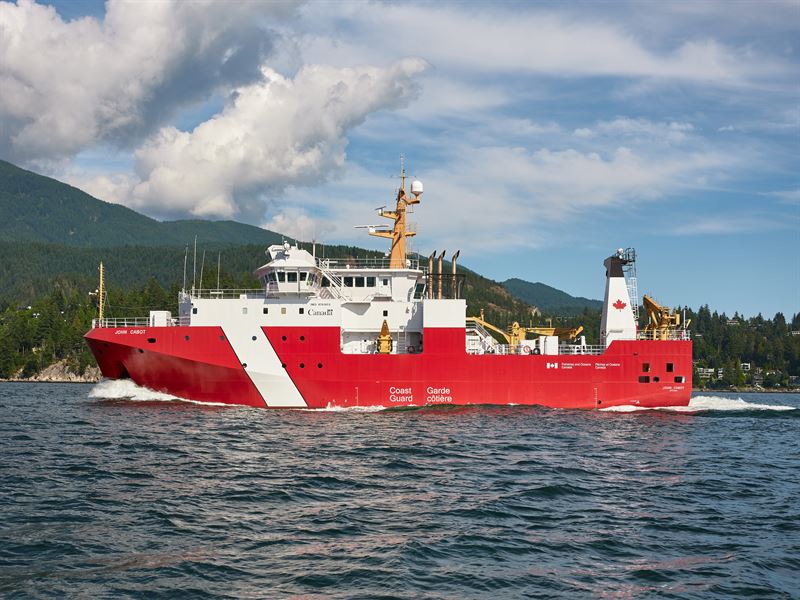 As explained, CCGS John Cabot is the third OFSV delivered by Seaspan Shipyards in the last 15 months and completes the first full class of large vessels under Canada's National Shipbuilding Strategy (NSS).
"This is an important milestone in the renewal of the Canadian Coast Guard fleet and represents the first large vessel construction project completed under the National Shipbuilding Strategy. The Government of Canada will continue to work with Seaspan on other important fleet renewal projects," Anita Anand, Minister of Public Services and Procurement, commented on the occasion.
The 63.4-meter-long newbuilding, which was launched in early July this year, will now join its sister ships already in service, CCGS Capt Jacques Cartier, delivered to the coast guard in November 2019, and CCGS Sir John Franklin, delivered in June 2019.
According to the coast guard, the ships will ensure that Fisheries and Oceans' scientists are working with the best equipment to conduct their vital work on fishery resources, other marine species and their environments. The OFSVs will also support environmental response and search and rescue operations, helping to ensure marine safety and environmental protection which are also key components of the Government of Canada's $1.5B Oceans Protection Plan.
Following a transition period for the vessel's new coast guard commanding officer and crew, the CCGS John Cabot will set sail to its homeport in St. John's, Newfoundland and Labrador, where it will support scientific research, search and rescue operations and environmental response.
It is planned to begin science missions in April 2021.
Wärtsilä's low-noise propulsion solutions for OFSVs
In a separate statement, Finnish technology group Wärtsilä said it had supplied specialized propulsion solutions for the three OFSVs built by Seaspan.
Low-noise propulsion is very important for the vessels' primary mission, which is to carry out fisheries research. As such, Wärtsilä designed the propellers to deliver a high-cavitation inception speed to comply with these low underwater radiated noise requirements.
In addition to enabling quiet propulsion, the company's fully integrated solutions also reduce both fuel consumption and emissions, Wärtsilä added.
The Wärtsilä scope of supply for each of the three vessels includes the propulsion solution, comprising the custom-designed fixed pitch propeller, the shaft line assembly, plus seals and bearings, and the transverse thruster with e-motor and variable speed drive.