Two killed in US Navy training aircraft crash
A US Navy T-6B Texan II trainer aircraft crashed in a residential area of Foley, Alabama, on 23 October, killing two officers and starting home and car fires.
The US Navy has identified the two-person aircrew killed in a crash as US Navy Lt. Rhiannon Ross, 30 years old from Wixom, Michigan, and US Coast Guard Ensign Morgan Garrett, 24 years old from Weddington, North Carolina.
No civilians were injured as a result of the crash, the navy said.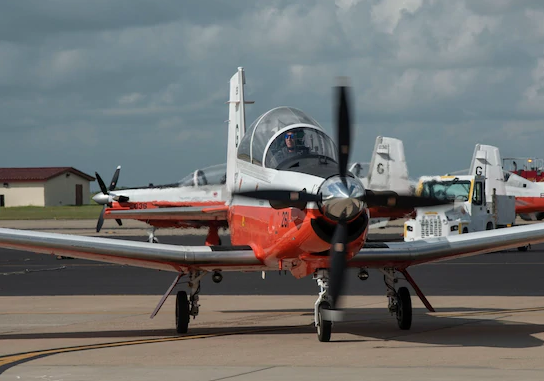 Ross, an instructor pilot, and Garrett, a student aviator, took off from Naval Air Station Whiting Field, Milton, Florida, on a routine training flight when their small plane crashed in the residential area.
An investigation into the matter has been launched.
US Navy sailor medevaced near Chesapeake Bay
During the past weekend, another US Navy officer was involved in a separate accident.
The US Coast Guard medevaced a sailor from a US Navy ship approximately 12 miles off the coast of the entrance of the Chesapeake Bay in the early morning hours of 24 October.
As informed, watchstanders at the Coast Guard Sector Virginia Command Center received a request from the navy for a medevac of a crewmember who injured his hand during an accident.
Sector Virginia launched a 45-foot response boat – medium boatcrew from Coast Guard Station Little Creek. A member from Virginia Beach EMS rode along to provide medical assistance en route, if needed. 
Once on-scene, the boatcrew transferred the sailor aboard the RB-M and transported him to awaiting shoreside emergency medical services in Virginia Beach.