Indian Navy's new aircraft carrier passes basin trials
Indian Navy's new Indigenous Aircraft Carrier (IAC-1), to be named Vikrant upon commissioning, completed its basin trials at Cochin Shipyard Limited, the navy said.
The trials were held on November 30th and were enabled by close cooperation between the CSL and the navy in compliance with all COVID-19 related health and safety restrictions.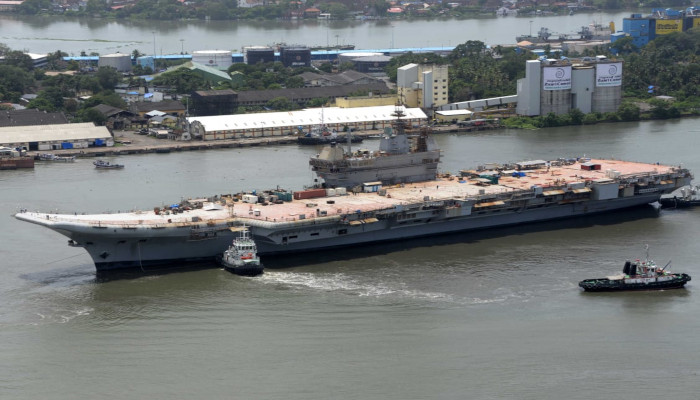 "It is solely due to the astute planning and the implementation of necessary safety measures on ground by the navy and the shipyard that the work onboard aircraft carrier could progress unhindered even during the peak of pandemic," the navy said.
Basin trials are primarily aimed at proving the performance of the main propulsion plant of the ship in harbour and is a precursor to the ensuing sea trials slated for the first half of 2020.
The extensive trials covered all four LM2500 gas turbines, main gearboxes, shafting and controllable pitch propellers, along with their integrated control systems.
Furthermore, major auxiliary equipment and systems such as steering gear, air conditioning plants, compressors, centrifuges, all 60 critical pumps, power generation and distribution system, major machinery fire-fighting and de-flooding systems, deck machinery, as well as entire internal communication equipment were tested during the trials.
The IAC project is also a true example of 'Atmanirbhar Bharat' with close to 75% of the material and equipment onboard the IAC being indigenous. This includes raw materials such as 23000 tons of steel, 2500 kilometers of electrical cables, 150 kilometres of pipes, and 2000 valves as well as finished products.
INS Vikrant will be the largest naval ship ever to be built in India.
According to the Indian Navy, Vikrant will be capable of operating an aircraft mix of the Russian MiG-29K and LCA (Navy) fighters being developed indigenously. Its helicopter component will include the Kamov 31 and the indigenously developed ALH helicopters.
The ship's ability to sense and control a large air space around it will be enabled by C/D band Early Air Warning Radar, V/UHF Tactical Air Navigational and Direction Finding systems, jamming capabilities over the expected electro magnetic environment and Carrier Control Approach Radars to aid air operations. Long Range Surface to Air Missile (LR SAM) systems with Multi-Function Radar (MFR) and Close- In Weapon System (CIWS) will form the protective suite of the ship.
All weapon systems onboard the carrier will be integrated through an indigenous Combat Management System, being manufactured by Tata Power systems.