The Royal Canadian Navy has officially assumed command of Combined Maritime Forces' (CMF) Combined Task Force (CTF) 150 from the Royal Saudi Naval Forces.
Rear Admiral Sulieman Al Faqeeh of the Royal Saudi Naval Forces formally handed-over command of CTF 150 to Commodore Dan Charlebois of the Canadian Armed Forces (CAF), in a special ceremony held at the US Navy's NAVCENT headquarters in Bahrain on 27 January 2021.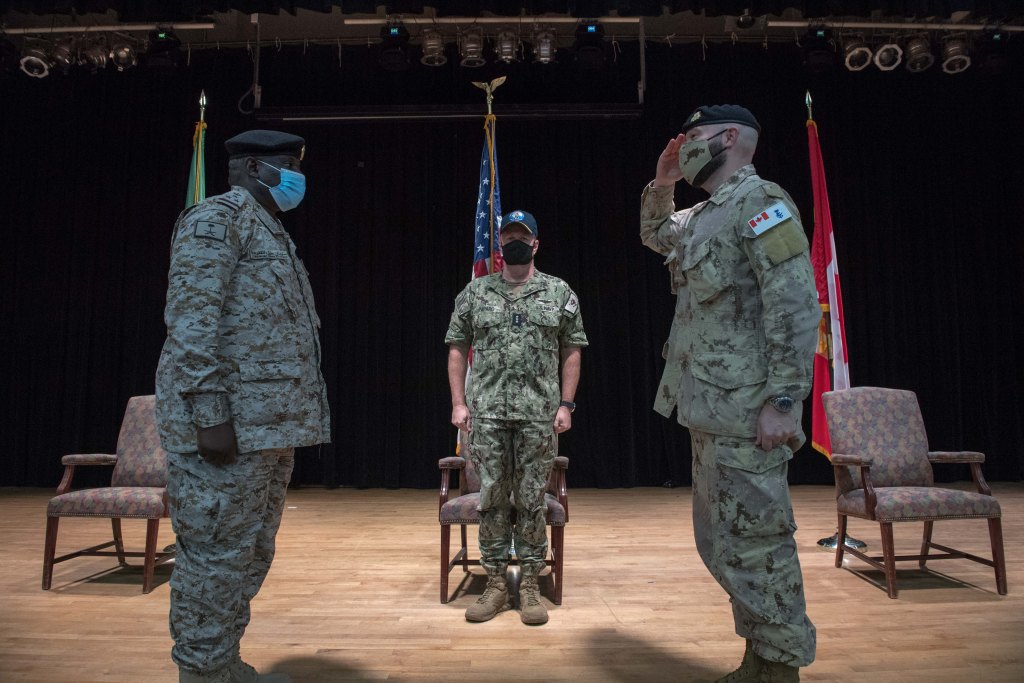 This concludes Saudi Arabia's second command of CTF-150, after taking over from the French Marine Nationale in August 2020.
Formed in 2002, CTF 150 is a maritime defence force that conducts maritime security operations outside the Arabian Gulf. Primarily dedicated to the deterrence, disruption and suppression of trafficking and other illicit maritime activity, CTF-150 also engages with regional and other partners to strengthen relevant capabilities in the region.
Canada is a member of CMF and has been periodically contributing to CTF 150 through Canadian warships and/or staff. Operation ARTEMIS is the CAF's contribution to CTF 150. This is the country's fifth command of CTF 150.
Canada has deployed 31 CAF personnel and one Department of National Defence civilian employee to the CMF headquarters in Bahrain to lead CTF 150 until July 2021. Her Majesty's Canadian Ship Calgary is expected to join this Op ARTEMIS deployment in spring 2021.
The Canadian command contingent is supported by personnel of the Royal Australian Navy.
"I am honoured to have the opportunity to lead this dedicated group of joint Canadian-Australian professionals who comprise CTF 150. Together, in support of our coalition goals, we will strive to continue to ensure the protection and security of Middle Eastern waters," Commodore Dan Charlebois, Commander Combined Task Force 150, commented.
Photo: Courtesy of the US Navy