Canada awards deal for CCGS Sir Wilfred Grenfell life extension
Public Services and Procurement Canada has awarded a C$17.3 million contract to Allied Shipbuilders Limited for vessel life extension (VLE) work on the Canadian Coast Guard Ship (CCGS) Sir Wilfred Grenfell.
The vessel will undergo VLE work, enabling it to take on a broader range of tasks, notably buoy tending and search and rescue.
As informed, the project will commence in February 2021, when the vessel will be towed to the supplier's facility in North Vancouver, British Columbia, for dry-docking. Work will continue until mid-July 2021. The vessel will also be inspected by marine regulatory bodies.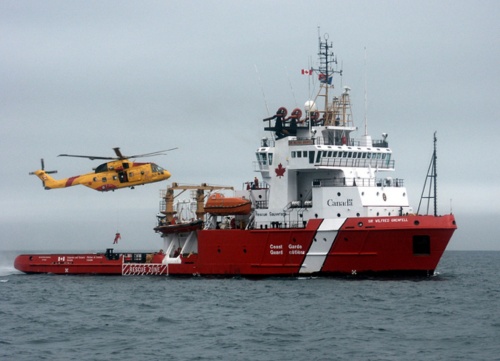 Work will include painting the hull and deck, updating navigation equipment and networks, installing a new cargo hold and hatch, replacing propulsion thrusters, modifying the ballast system and installing new machinery.
This contract was awarded under the repair, refit and maintenance component of the National Shipbuilding Strategy, which provides ongoing opportunities for shipyards and suppliers across Canada.
"Canadian Coast Guard operates coast to coast to coast performing critical duties from icebreaking to search and rescue missions. It is crucial Coast Guard members have the most effective, modern equipment to meet the intense demands of their job… we are proud to announce that the life of the CCGS Sir Wilfred Grenfell will be extended," Bernadette Jordan, Minister of Fisheries, Oceans and the Canadian Coast Guard, commented.
Originally built as an offshore support vessel in 1985, the CCGS Sir Wilfred Grenfell was converted into a search and rescue vessel and entered coast guard service in 1987. The vessel is based in Victoria, British Columbia, serving the Western Region.
Canadian Coast Guard's OOSV project
In a separate statement, the Canadian government said it awarded a contract of C$453.8 million to Seaspan's Vancouver Shipyards to enable the company to transition the offshore oceanographic science vessel (OOSV) project from the design phase to full construction.
Construction of the OOSV will begin in spring 2021, with delivery expected in 2024. A single-ship of this class is to be constructed.
The 86-meter-long OOSV will replace the CCGS Hudson, the Canadian Coast Guard's oldest and largest science vessel. The vessel will be capable of performing multiple tasks, including oceanographic, geological and hydrographic survey missions.
Under the NSS, Seaspan's Vancouver Shipyards is building the OOSV and up to 16 multi-purpose vessels for the Canadian Coast Guard, as well as two joint support ships for the Royal Canadian Navy.