Spanish shipbuilder Navantia has launched the third of five corvettes ordered by the Royal Saudi Naval Forces (RSNF).
Named Hail as a tribute to a city in Saudi Arabia, the newbuilding was launched in San Fernando on 28 March 2021.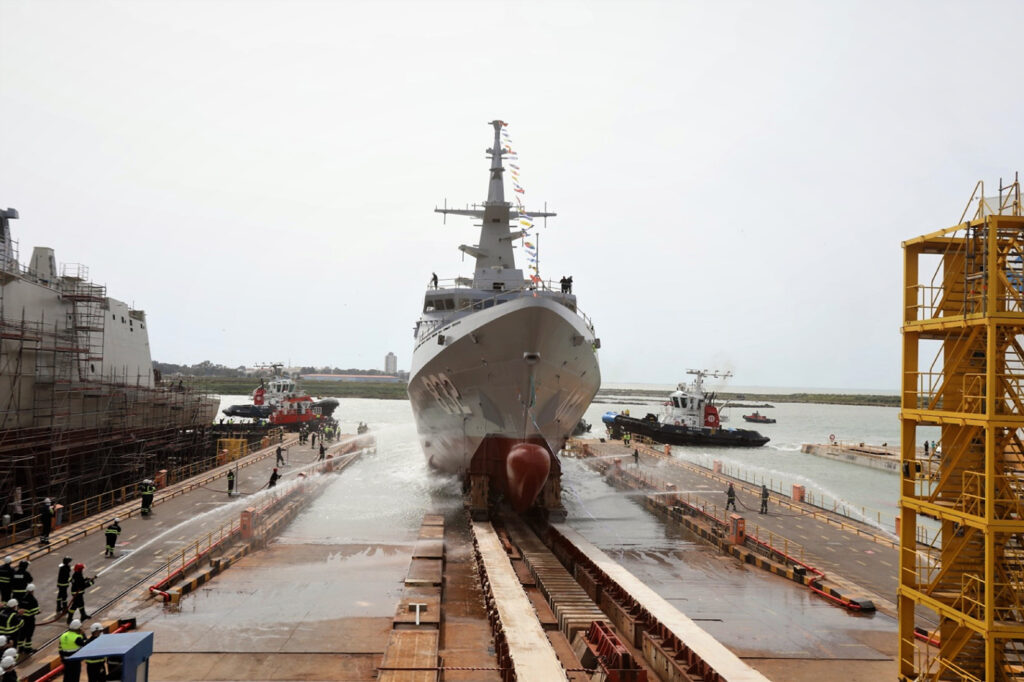 The corvette has touched the water after sliding along the slipway and the construction of the ship will continue in the water until its delivery to the Royal Saudi Naval Forces in December 2022.
Hail is the third of five corvettes being built by Navantia as part of the Avante 2200 program. It has a length of 104 meters, a beam of 14 and will be able to transport a total of 102 people including crew and passengers.
The corvette can reach a maximum speed of 27 knots and, among other things, has the capacity to carry provisions on board for 21 days.
The design incorporates Navantia products such as the CATIZ Combat System, the HERMESYS Integrated Communications System, the DORNA Firing Direction, the Integrated Platform Control System and the MINERVA Integrated Bridge, together with other equipment developed by Navantia under license, such as the MTU Engines or the RENK Reduction Gearboxes.
Avante 2200 program
Spain and Saudi Arabia finalized Avante 2200 corvette deal in April 2018. The deal is worth around EUR 2 billion.
This program, expected to be completed in 2024 with the delivery of the final unit, also includes life cycle support for five years, from the delivery of the first vessel, with an option for another five years.
Moreover, the contract includes the supply of various services such as integrated logistical support, operational and maintenance training, the supply of training and training centers for the combat system and platform control system for ships, and the systems for the maintenance of ships in the RNSF Jeddah Naval Base.
The lead corvette, Al Jubail, was launched in July 2020, and was followed by Al-Diriyah, the second Avante 2200-class unit which was launched last November.