French Navy La Fayette-class frigate FS Guépratte (F-714) has seized 1,380 lbs (626 kg) of methamphetamine worth more than $17 million during the latest Combined Maritime Forces (CMF) counter-narcotics operation in the Arabian Sea on April 9.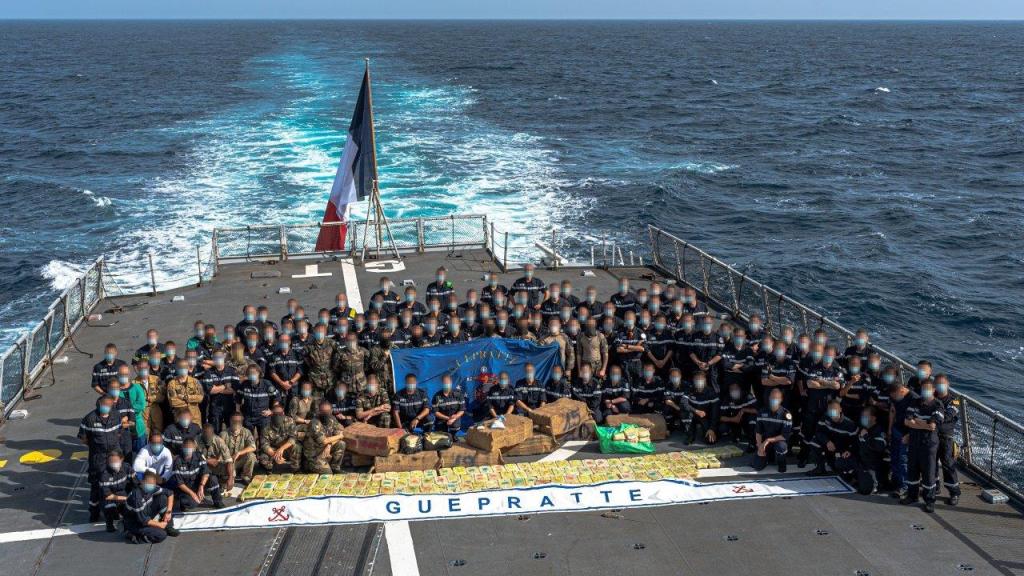 After spotting a suspicious vessel whilst on patrol in the Arabian Sea and investigating with the ship's boarding team, the subsequent search operation uncovered the illicit cargo, which also contained 165 lbs (75 kg) of heroin worth a further $787,500. 
"This drug seizure … represents another great success against the illicit traffic of narcotic drugs at sea and crowns the efficient and relentless training undertaken by my crew since September," said Guépratte's Commanding Officer, Capt. Guilhem Desvignes.
Operating in direct support of CTF-150, the record haul comes less than a month after Marine Nationale ships achieved five separate drug busts in a six-day period.
Since assuming command of the CTF in January, the Canadian-led outfit has now seized almost 20 tons (18 tonnes) of narcotics in 11 separate interdictions by ships from France, the UK, and the United States.
"The successful seizure of methamphetamine on this scale shows how critical our maritime security operations are to tackling global issues. The actions of FS Guépratte and CTF-150 have removed this dangerous substance from circulation and a significant sum from the pockets of its peddlers," said Deputy Commander of CMF, Commodore Ed Ahlgren of the Royal Navy.
"It's important we consider the downstream effects; these illicit actors will now be hampered in their other activities, including terrorism, while communities can rest easy knowing this harmful product will not be on their streets."