Austal wins preliminary design contract for US Navy's light amphibious warship
Shipbuilder Austal USA has been awarded a concept studies and preliminary design contract by the United States Navy (USN) for the light amphibious warship (LAW) program.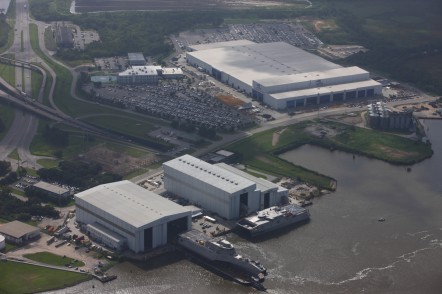 The USN's LAW program envisions procuring a class of 28 to 30 new amphibious ships to support the Marine Corps, particularly in implementing a new Marine Corps operational concept called Expeditionary Advanced Base Operations (EABO).
The US Navy envisions the first LAW being procured in FY2023.
As explained, LAW will provide US Naval forces a manoeuvre and sustainment capability to conduct littoral and amphibious operations. The medium-sized landing ships are expected to be approximately 60 to 120 metres length overall (LOA) with an ability to embark at least 75 US Marines with approximately 370 – 740 square metres of cargo area to transport the Marines' weapons, equipment, and supplies to the beach or austere ports.
Austal USA is one of five companies approached by the US Navy to develop LAW concept designs, with a follow-on option for preliminary design. A single shipyard is expected to be down-selected for a detailed design and construction contract by the end of the third quarter of CY2022.
Austal USA wins $44M LCS contract modification
Separately, Austal USA said it received a modification to a previously awarded littoral combat ship (LCS) program contract by the US Department of Defense.
The modification provides Austal with a total potential additional value of $44,384,296.
The contract modification exercises options for LCS class design services, material to support LCS class design services and the US Navy's Integrated Data Product Model Environment (IDPME). 
Austal will provide LCS Class design services to all Independence-class LCS ships and services may include program management, fitting out services, change processing, software maintenance, engineering and lifecycle efforts. The shipbuilder will also maintain an IDPME that shall enable Navy access to enterprise LCS data management.