Fassmer to build two ships for the German Navy
On July 22nd, 2021 the Fassmer company was commissioned with the production and delivery of two 50 meter long vessels for the German Armed Forces.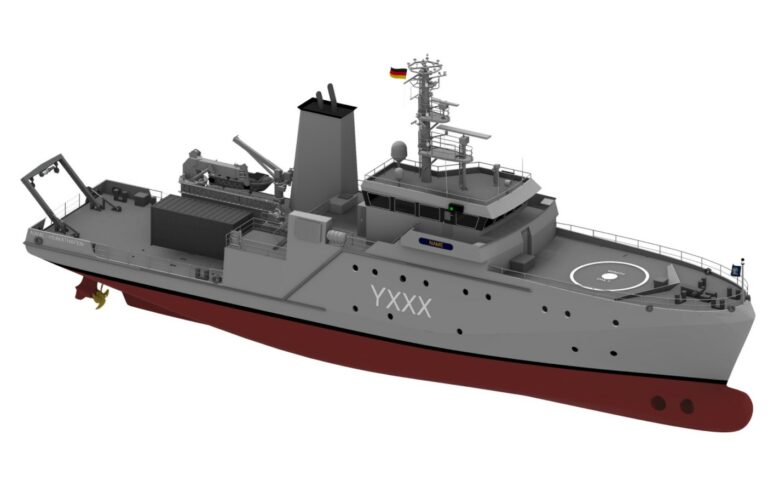 The two new identical vessels known as 'sea and shore trial instrumentation ships' (Messboote Seeversuche Küste) will be operated by the German Navy's WTD 71.
According to the shipbuilder, the concept of the multi-purpose boat developed by Fassmer makes it possible to easily, flexibly and individually adapt equipment and configuration of the vessel.
"We are pleased that the German Navy has placed its trust in our concept, which once again underlines our expertise in the field of innovative special ships. With this tender we were certainly able to benefit from the experience we have gained with the construction of various multi-purpose and research vessels," said Harald Fassmer, managing partner of Fassmer.
As a testing center for ships, naval weapons and maritime technology, the WTD 71 has a total of nine ships with special capabilities to carry out its tasks.
Thanks to the new contract signed, the multi-purpose boats of the class 745 "Breitgrund" and "Mittelgrund" will be replaced after 32 years, as will the barrage weapon test boat "Wilhelm Pullwer" of the class 741 after 55 years.
The two vessels, slated for delivery from 2023, will among other things support the securing and recovery of torpedoes as part of tests, sail with submarines during shallow water tests, provide support for the use of autonomous underwater vehicles as well as diving missions in the context of defense investigations of diving devices and equipment.