US, Australia and Japan in Combined and Joint Battle Problem
USS America Expeditionary Strike Group is carrying out operations alongside Royal Australian Navy and Japan Maritime Self-Defense Force in support of the Combined and Joint Battle Problem (CJBP).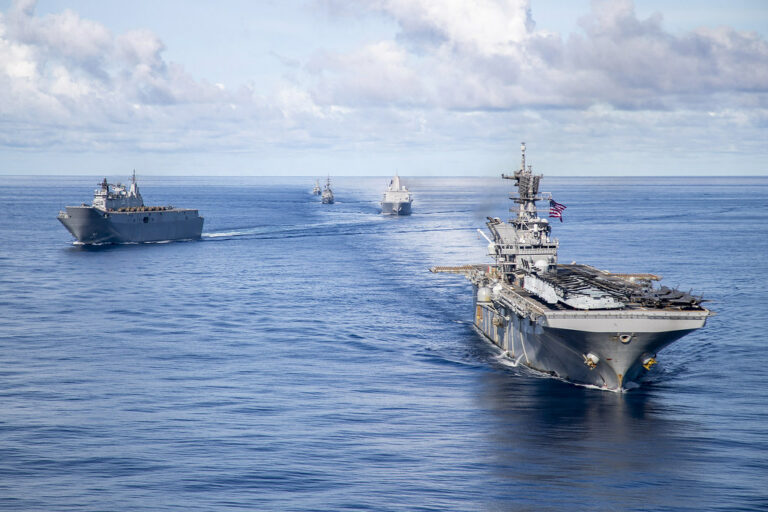 The CJBP, taking place from 5 to 8 August, gathers the US 31st Marine Expeditionary Unit (MEU), Royal Australian Navy's HMAS Canberra (L 02) and HMAS Ballarat (FFH 155), and Japan Maritime Self-Defense Force's JS Makinami (DD 115).
CJBP is one of many operations nested under the U.S. Indo-Pacific Command's Large Scale Global Exercise (LSGE) 21, which is a global command and control exercise to enhance the integration of the U.S., allies and partners in the region.
The U.S. in conjunction with like-minded partners and allies will operate across several bases in the region and project sustained combat power. During CJBP, surface units will conduct complex maneuvering, refueling at sea, and integrate aviation assets through helicopter cross-deck opportunities, the U.S. Navy said.
"It should come as no surprise that our blue-green team will continue to operate with like-minded nations in order to promote stability and the international rules-based order," said Rear Adm. Chris Engdahl, commander of Expeditionary Strike Group 7. "Operations such as these ensure our forces can come together, if called upon, to defend shared interest in the region and respond to conventional or non-conventional threats."
According to the navy, each training evolution was planned and coordinated among units and will be executed as multi-domain operations in order to provide commanders with numerous options for executing processes and maneuvers. Events are based on a continuum of scenarios and designed to test operational concepts.