Royal Navy's fourth Astute-class submarine commissioned
Astute-class attack submarine HMS Audacious was formally commissioned on 23 September during a ceremony at HM Naval Base Clyde.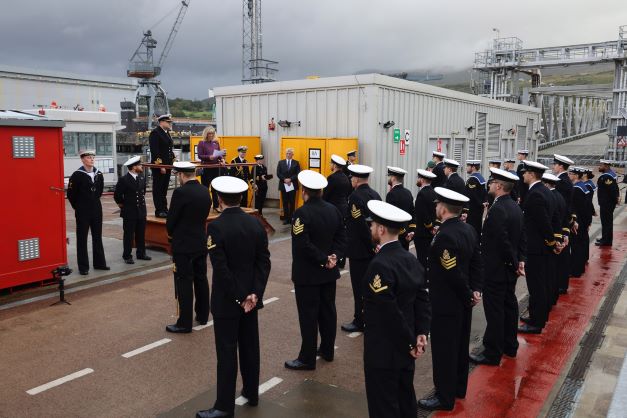 The ceremony marks the completion of extensive tests and sea trials for the vessel with Audacious now ready for Royal Navy operations around the globe.
Equipped with sophisticated sensors, the Astute-Class submarines carry both Tomahawk land attack cruise missiles (TLAM) and Spearfish heavyweight torpedoes.
The vessels are capable of circumnavigating the globe while submerged, producing their own oxygen and drinking water.
"This is an extremely important day in the life of HMS Audacious and I am delighted that the sponsor, Lady Elizabeth Jones, was able to formally commission this, our fourth Astute-Class submarine, today. Throughout this pandemic, Audacious has delivered her extensive trials programme without fuss and with considerable style," Commodore Jim Perks, Head of the Royal Navy Submarine Service, said.
HMS Audacious arrived at HM Naval Base Clyde for the first time on April 7 last year where she joined sister-vessels HMS Astute, HMS Artful and HMS Ambush. 
The Astute-Class nuclear powered submarines are among the most sophisticated underwater vehicles ever constructed, gradually replacing the Trafalgar-class submarines which have provided service for almost four decades.