Fincantieri launches Qatar's third Al Zubarah-class corvette
Italian shipbuilder Fincantieri has launched the Qatar Emiri Navy's (QEN) newest Al Zubarah-class corvette at its Muggiano (La Spezia) shipyard.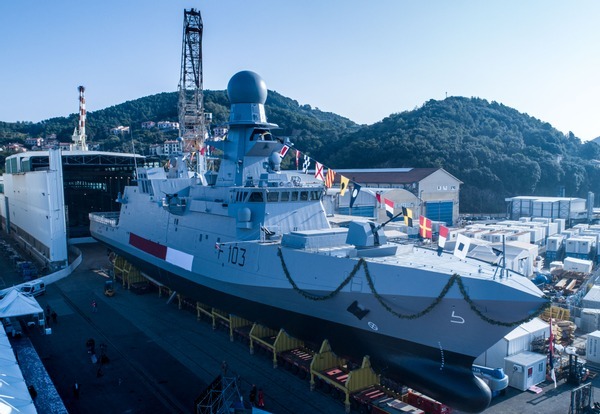 The launching ceremony for the third out of four vessels took place on 30 September as part of Qatar's national defense program.
Fincantieri said that the ceremony was "held in a restricted format and in full compliance with anti-contagion requirements''.
With a length and beam of 107 meters and 14.7 meters, the new Al Zubarah-class corvettes feature a combined diesel and diesel plant (CODAD) configured propulsion system. They will be able to reach a maximum speed of 28 knots hosting 112 people on board.
The corvettes are capable of conducting various roles that range "from surveillance with sea rescue capacities to being fighting vessels", as well as operate high-speed boats such as rigid hull inflatable boat (RHIB).
The new corvette's platform presents a sophisticated and robust combat system with a full range of weapons for anti-air warfare (AAW) and anti-surface warfare (ASuW) operations while the platform anti-submarine warfare (ASW) capabilities are limited to self-defense, although the ship can accommodate and operate a NH90 NFH maritime helicopter.
The vessel will be delivered in 2022.
Qatar's Ministry of Defense signed a contract with the Italian shipbuilding company in August 2017. In addition to four corvettes, the deal includes the construction of two OPV/FACM type ships based on the Falaj 2-class ships.
The second ship-in-class was launched in February this year, and the company also revealed that a keel was laid for the third one.