Warships from world's largest naval forces join multilateral exercise
Naval forces from Australia, Japan, the UK, and the US have joined together in the multinational Maritime Partnership Exercise (MPX) 2021 to conduct naval training in the eastern Indian Ocean.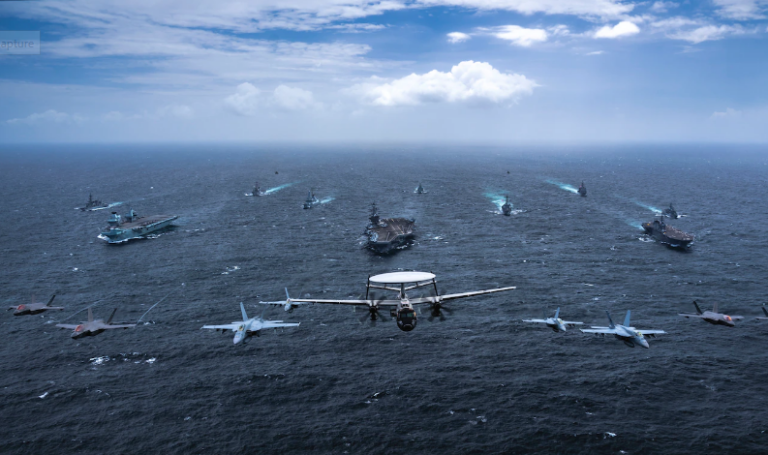 During the multinational exercise, four Indo-Pacific navies, the Royal British Navy (RN), Royal Australian Navy (RAN), Japan Maritime Self-Defense Force (JMSDF), and U.S. Navy engaged in enhanced planning, advanced maritime communication operations, anti-submarine warfare operations, air warfare operations, live-fire gunnery events, replenishments-at-sea, cross-deck flight operations, and maritime interdiction operations.
"The U.S. Navy routinely conducts integrated training operations with its international partners to demonstrate our commitment and investment in the Indo-Pacific region," said Capt. Gilbert Clark, commodore, Destroyer Squadron (DESRON) 1.
"In addition to preserving rules-based international order in the global maritime commons, the U.S. Navy's unwavering pledge to maritime security in the Indo-Pacific is critical to international trade and commerce."
Participating from the Royal Australian Navy are Anzac-class frigate HMAS Ballarat (FFH 155) and HMAS Sirius (O 266).
On the other hand, JMSDF participants included Izumo-class multipurpose operation destroyer JS Kaga (DDH 184), Murasame-class destroyers JS Murasame (DD 101).
From Royal British Navy came the Carrier Strike Group (CSG) 21, consisting of seven navy's warships.
Additionally, the US Navy sent the Carrier Strike Group (CSG) 1, consisting of aircraft carrier USS Carl Vinson (CVN 70); Carrier Air Wing (CVW) 2; Ticonderoga-class guided-missile cruiser USS Lake Champlain (CG 57); Arleigh Burke-class guided-missile destroyer USS Stockdale (DDG 106); and Fleet Replenishment Oiler Henry J. Kaiser-class USNS Yukon (T-AO 202).
"All four participating nations have enduring interests in the security, stability, and well-being of the Indo-Pacific region," added Rear Adm. Dan Martin, commander, Carrier Strike Group (CSG) 1.
CSG 1 recently conducted a variety of bilateral exercises with the Japan Maritime Self-Defense Force and tri-carrier operations with the Royal Navy's HSM Queen Elizabeth (R08) and US Navy's Nimitz-class aircraft carrier USS Ronald Reagan (CVN 76).