Damen lays keel for third South African inshore patrol vessel
Damen Shipyards Cape Town (DSCT) has held a keel-laying for the third multi-mission inshore patrol vessel (MMIPV) that the company is building for the South African Navy (SAN).
As informed, the coin laid at the DSCT event was a commemorative medal made in honor of the late President Nelson Mandela's 1993 Nobel Peace Prize win. The coin was placed on the keel by the Chief of the Navy (Vice Admiral Hlongwane).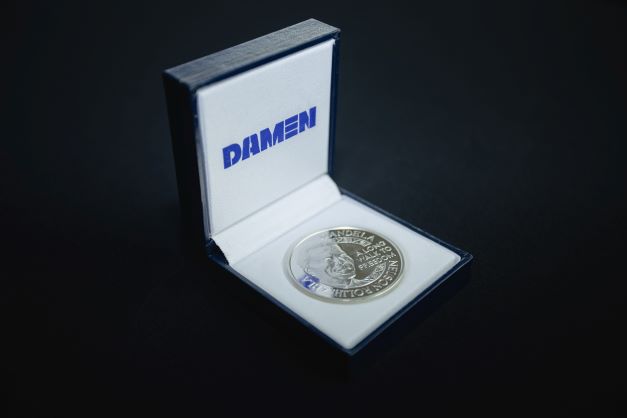 The MMIPVs are based on Damen FCS 5009 Axe Bow design, which ensures low resistance, high sustained speed in waves and superior sea keeping characteristics in the toughest conditions.
As vertical accelerations are reduced significantly and bow slamming almost eliminated, the safety of the vessel and crew increases considerably, reducing operational risks. The multi-mission deck is used for supporting diving, search and rescue and anti-piracy operations, according to Damen.
The MMIPV vessels, which are a part of Project BIRO, will augment South Africa's maritime security by enhancing the country's capability to respond effectively, rapidly and cost-effectively to threats such as illegal trafficking and fishing. Back in 2018, South African defense procurement agency ARMSCOR awarded contracts for the construction of three 62-meter-long ships to Damen.
Speaking at the event, CEO of ARMSCOR, Adv. Solomzi Mbada, stated that "the acquisition strategy for this project included Commercial-Off–The-Shelf (COTS) equipment, as well as compliance with the dti 60% local content shipbuilding designation requirement, Defence Industrial Participation (DIP) and National Industrial Participation (NIP)."
This ensured that ARMSCOR could maximise local participation and ensure that the vessels can be supported locally, thereby minimising the life cycle support costs, according to the statement.
This March, Damen launched the first of three multi‑mission inshore patrol vessels (MMIPV) built for the South African Navy.
In August 2020, DSCT held a keel-laying ceremony for the second of the three units.