Australia, Canada, Germany, Japan and US wrap up joint military drills in Asian waters
Royal Australian Navy (RAN) vessels have finished nine days of maritime warfare training with four nations Canada, Germany, Japan and US during Annualex 2021.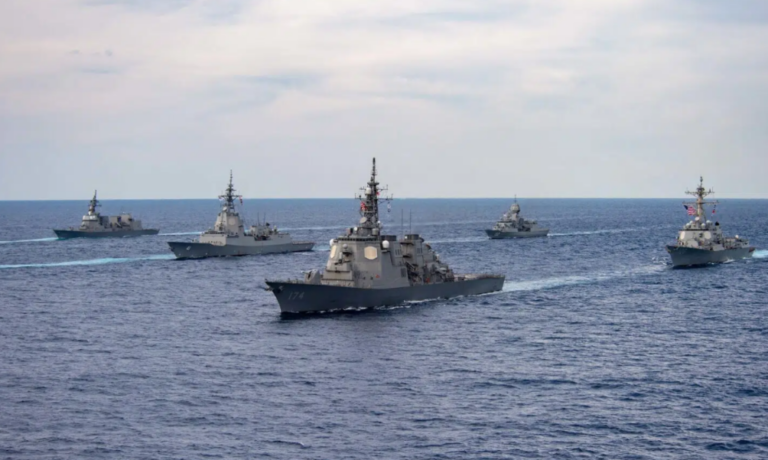 Annualex is a yearly naval training event led by JMSDF. Naval forces from around the world are invited to participate in the event in an effort to strengthen enduring relationships while sharpening naval proficiencies at all levels. This year's exercise took place in the Philippine Sea, off the southern coast of Japan.
Two Royal Australian Navy (RAN) vessels HMA Ships Brisbane and Warramunga joined the United States Navy, Japan Maritime Self-Defense Force, Royal Canadian Navy and German Navy to practice maritime communications, flying operations, replenishments at sea, anti-submarine and anti-air warfare.
Commander of the Australian Fleet, Rear Admiral Mark Hammond, said Annualex was an excellent example of positive navy-to-navy cooperation for the RAN.
"We worked closely with each of the participating nations, integrating our ships into the exercise which highlighted the importance of our enduring commitment to cooperating with our regional partners."
"By working together to refine our common maritime skills and tactics we also reaffirm our shared values and commitment to a stable Indo-Pacific," Commanding Officer of HMAS Brisbane, Commander Aaron Cox added.
Annualex 2021 also marked the first time in 20 years that the German Navy participated in the maritime exercises in this region.
"The German navy will strengthen its commitment to the region through deeper security and defense cooperation with regional partners. Germany would seek to send a frigate every two years to the Indo-Pacific region with a supply ship," Vice Adm. Kay-Achim Schönbach, chief, German Navy said.