US Navy welcomes 71st Arleigh Burke-class destroyer
The US Navy accepted the delivery of the future USS Frank E. Petersen Jr. (DDG 121) from shipbuilder Huntington Ingalls Industries' (HII) Ingalls Shipbuilding division on 30 November.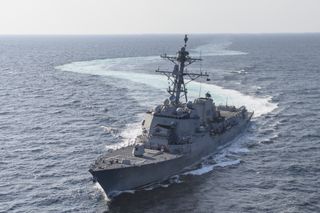 DDG 121 is an Arleigh Burke-class Flight IIA guided-missile destroyer equipped with the Aegis Baseline 9C2 Combat System, which includes integrated air and missile defense capability and enhanced ballistic missile defense capabilities. This system delivers quick reaction time, high firepower, and increased electronic countermeasures capability against a variety of threats, according to the officials.
The future USS Frank E. Petersen Jr. is named for the United States Marines Corps' first African American aviator and general officer.
"DDG 121 brings critical readiness to the fleet to ensure our Sailors are postured for success today and in the future," said Capt. Seth Miller, DDG 51 class program manager, Program Executive Office (PEO) Ships. 
Prior to delivery, the ship successfully conducted a series of at-sea and pier-side trials to demonstrate its material and operational readiness.
Arleigh Burke-class destroyers are highly capable, multi-mission ships and can conduct a variety of operations, from peacetime presence and crisis management to sea control and power projection – all in support of the United States military strategy.
The vessels are capable of simultaneously fighting air, surface and subsurface battles. The ship contains a myriad of offensive and defensive weapons designed to support maritime defense into the 21st century.
HII's Ingalls Shipbuilding division also has four more Arleigh Burke-class destroyers under construction, including Lenah Sutcliffe Higbee (DDG 123), Jack H. Lucas (DDG 125), Ted Stevens (DDG 128) and Jeremiah Denton (DDG 128).