Indian Navy's new survey vessel hits the water
Sandhayak, the first of the four Indian Navy's survey vessels (large), was launched in Kolkata on 5 December.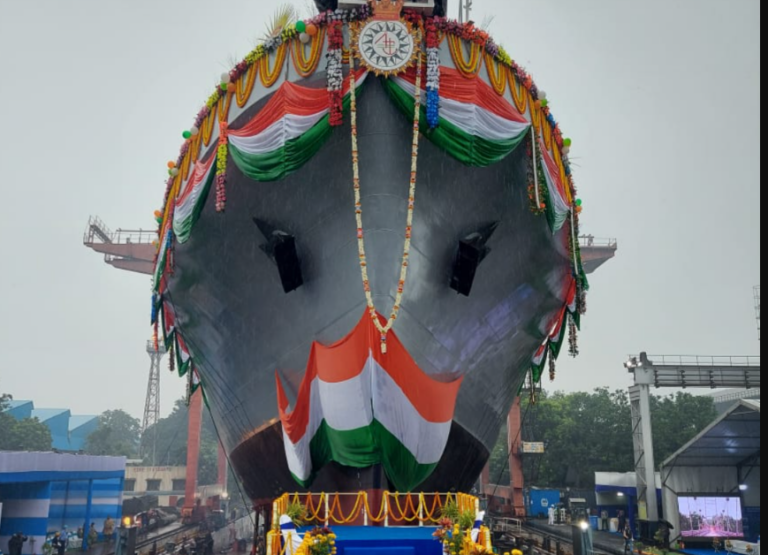 As informed, the vessel was designed and developed by Defence Public Sector Undertaking, Garden Reach Shipbuilders and Engineers (GRSE) Limited. Initially, the contract for building four survey ships was signed between the MoD and GRSE on 30 Oct 2018.
The ships are fully designed by the design team of GRSE to meet the requirements of the Indian Navy and are being built using the concepts of "Integrated Construction" and in compliance with applicable provisions and regulations of the classification society.
These survey ships are capable of full-scale coastal and deep-water hydrographic survey of ports approaches and determination of navigational channels and routes, according to the navy officials. ] They are also capable of undertaking surveys of maritime limits and collection of oceanographic and geographical data for defense applications, thus boosting the maritime capabilities of the country.
Moreover, the units are propelled by two marine diesel engines combined with fixed pitch propellers and fitted with bow and stern thrusters for manoeuvring at low speeds during surveys.
In their secondary role, these ships would be capable of performing roles such as search and rescue and disaster relief, besides serving as a hospital ship with limited facilities during emergencies. The ships will have a retractable hangar for stowage of a utility helicopter, the officials noted.
Appreciating GRSE's efforts, the Raksha Rajya Mantri said, the launch of the ship reinforces the government's commitment to indigenous shipbuilding as part of Prime Minister Shri Narendra Modi's vision of "Make in India".
Currently, there are 37 warships and submarines for the Indian Navy that are under various stages of construction in different shipyards within the country, according to the navy.
Under this program, the first ship is being built at GRSE and construction of the other three ships is conducted at M/s L&T Shipbuilding, Kattupalli.