Raytheon scores $578 million contract for SM-2 production
Arizona-based tech company Raytheon Missiles & Defense was awarded a $578 million contract to produce 54 SM-2 Block IIIAZ all-up round upgrades for the US and 215 Standard Missile-2 all-up rounds for seven partner nations.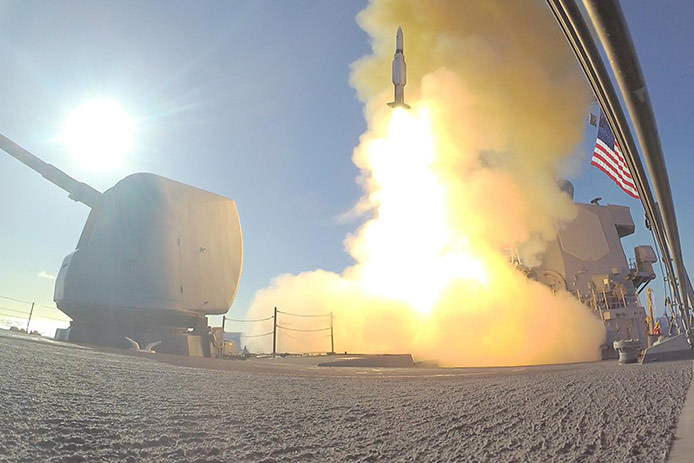 As informed, the contract includes the production of SM-2 Block IIIA, IIIAZ, and IIIB variants for the US, Chile, Denmark, Japan, Korea, Netherlands, Spain, and Taiwan.
SM-2 defends navies against anti-ship missiles and aircraft out to 90 nautical miles and an altitude of 65,000 feet (19.8 km). It has an extensive flight test history with more than 2,700 successful live firings, according to the company.
Furthermore, the SM-2 Block IIIA and IIIB variants include radar seeker technologies in continuous wave and interrupted continuous wave guidance modes, tail controls and solid rocket motor propulsion to engage high-speed maneuvering threats and updated radar targeting and directional warheads. Block IIIB also includes autonomous infrared acquisition.
"SM-2 continues to be a premier ship air-defense weapon for many partner navies worldwide," said Kim Ernzen, vice president of Naval Power at Raytheon Missiles & Defense. "Here at home, the SM-2 will protect U.S. Navy ships and crews through 2035 and beyond."
Last month, the company completed demonstrations of the network cooperative radar program. During the demonstration, two surface-based radar emulators detected targets using distributed sensing capabilities.
The demonstration proved that tactical radars, like SPY-6, will benefit from advanced distributed radar concepts developed in the NCR program.