US Navy receives final weapons elevator for $13bln Ford-class aircraft carrier
On December 22, the 11th and final advanced weapons elevator (AWE) aboard aircraft carrier USS Gerald R. Ford (CVN 78) was turned over to the ship's crew.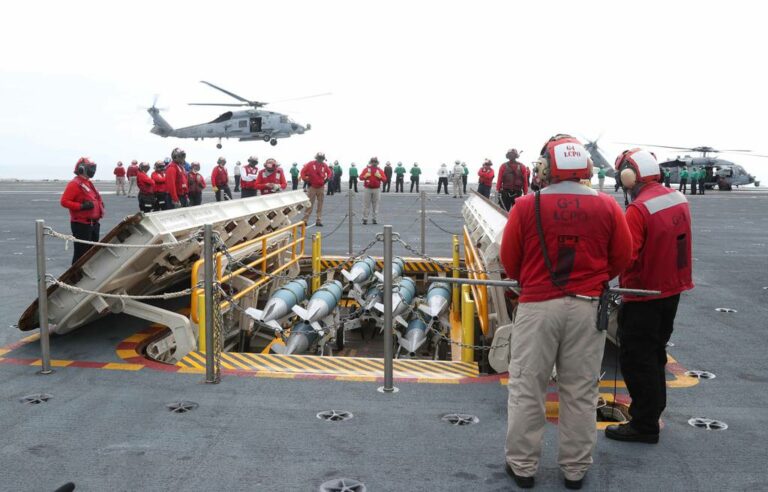 Shipbuilder Huntington Ingalls Industries (HII) has delivered the final advanced weapons elevator after lengthy delays caused by development, installation and delivery problems. 
AWEs on this aircraft carrier operate using several advanced technologies including electromagnetic motors vice more labor-intensive, hydraulic systems.  The technology enables fewer sailors to safely move ordinance from weapons magazines to the flight deck with unparalleled speed and agility, according to the company.
"This is a significant milestone for the Navy, ship, and her crew," said Rear Adm. James P. Downey, Program Executive Officer for Aircraft Carriers. 
Downey added that the Navy-Industry AWE team worked tirelessly both in port and at sea to complete the elevators to ensure the availability of needed materials and engineering expertise. Multiple vendors have collaborated along the way to ensure seamless support to multi-shift, shipboard production efforts.
The team logged this important milestone in the midst of the ship's six-month planned incremental availability (PIA), at Huntington Ingalls Industries-Newport News Shipbuilding facility in Hampton Roads, Virginia. USS Gerald R. Ford is scheduled to complete the PIA this spring, followed by training and deployment.
"The end game is always operational readiness," added Downey, "and Ford is on track to complete this PIA on schedule, conduct sea trials, and to move on to follow on tasking."
As one of Federal Equipment Co. (FEC) weapons handling system, the AWE was developed collaboratively working with MagneMotion and key stakeholders from Newport News Shipbuilding and NAVSEA. Originating as a concept during the early phases of new aircraft carrier design studies intending to replace the Nimitz-class carriers, the FEC Team was eventually down-selected to design and manufacture the AWE hoisting components for the Ford-class aircraft carriers.
The main goal of the new weapons elevator was to improve the rate of weapons movement on the ship from magazines to the topside and visa-versa, commonly referred to as strike-up and strike-down. FEC's AWE consists of a ropeless elevator system utilizing linear synchronous motors (LSM), advanced control systems, wireless technology, as well as many other innovative subsystems, the company noted.