Royal Navy's first female admiral takes command
Senior Royal Navy officer Judith Helen "Jude" Terry has taken command as the first female admiral in the Royal Navy's history.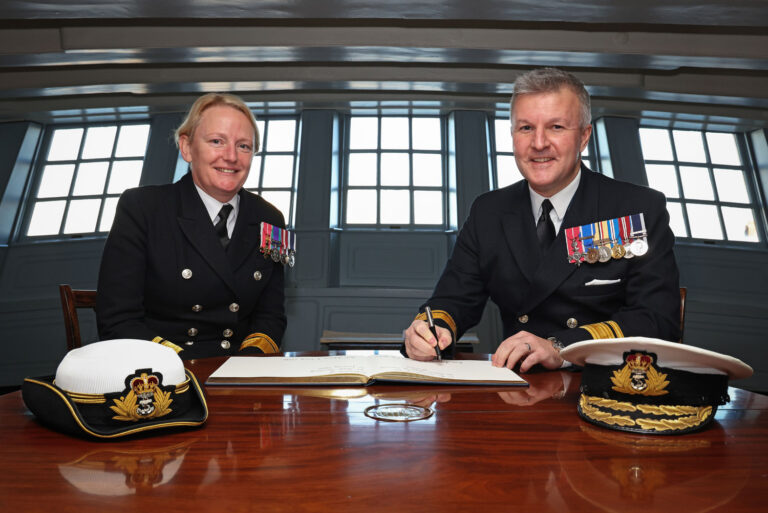 After nearly 25 years' service around the globe and at home in the UK, the 48-year-old Royal Navy officer from Jersey takes the helm as Director of People and Training and Naval Secretary.
That makes the rear admiral responsible not only for more than 40,000 regular and reservist sailors and Royal Marines, but also the Royal Fleet Auxiliary – who operate the Navy's crucial support ships – plus civil servants and contractors.
She took the reins of her department from her predecessor Rear Admiral Phil Hally following a ceremony aboard HMS Victory in Portsmouth, continuing and building upon many of the changes he has introduced under the Royal Navy's sweeping Transformation program.
Beyond immediate issues impacting the navy, Admiral Terry's department is also charged with helping to shape the Royal Navy and its people up to 2040, when there will still be two 65,000-tonne aircraft carriers in service, alongside new Dreadnought-class submarines, three new classes of frigates and a new generation of destroyers.
"The world has changed in terms of what people want from life and careers, whatever their gender, and the Navy needs to work to modernise our organisation to support this change – a diverse and inclusive workforce is a better place for all but is also proven to deliver better outcomes," Admiral Terry said.
"I look forward to leading my team in supporting them, using modern approaches, helping us all to be the best we can be, and building on the work already done by my predecessor."
First Sea Lord Admiral Ben Key added Admiral Terry is "a great example of all the amazing women serving today – and a role model for all who serve and those who follow."