Keel laid for US Navy's first Flight II amphibious transport dock
The keel for the future USS Harrisburg (LPD 30), the US Navy's new San Antonio-class amphibious transport dock ship and the first Flight II ship, was laid at Huntington Ingalls Industries' (HII) Ingalls Shipbuilding on 28 January.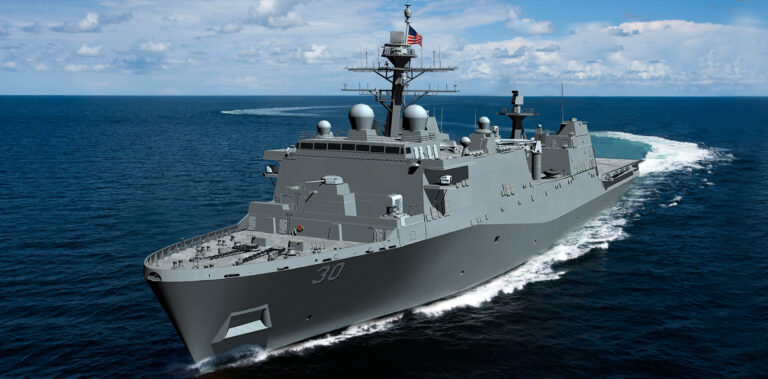 The LPD Flight II ships will be the functional replacement for the Whidbey Island-class (LSD 41/49), according to the US Navy. The San Antonio-class is designed to support embarking, transporting, and landing marines and their equipment by conventional or air-cushioned landing craft.
Furthermore, the ship's capabilities are enhanced by its flight deck and hangar, enabling the ship to operate a variety of US Marine Corps helicopters and the Osprey tilt-rotor aircraft (MV-22).
Because of the ships' inherent capabilities, they are able to support a variety of amphibious assault, special operations, expeditionary warfare, or disaster relief missions, operating independently or as part of Amphibious Readiness Groups (ARGs), Expeditionary Strike Groups, or Joint Task Forces, the officials noted.
"LPD 30 marks the beginning of the LPD Flight II builds and the continuation of the superb capability that the San Antonio Class platform has brought to the Navy –Marine Corps team," said Cedric McNeal, program manager, Amphibious Warfare Program Office, Program Executive Office (PEO) Ships.
"With its flexibility and adaptability, LPD Flight II ships are essential to projecting power and delivering the combat capability needed to shape the future fleet."
Recently, the company launched the San Antonio-class amphibious transport dock Richard M. McCool Jr. (LPD 29) for the US Navy.