Fincantieri cuts steel of bow section for French Navy's 2nd FLOTLOG LSS
The steel cutting of the bow section for the French Navy's second FLOTLOG type logistic support ship (LSS) took place on 1 February 2022.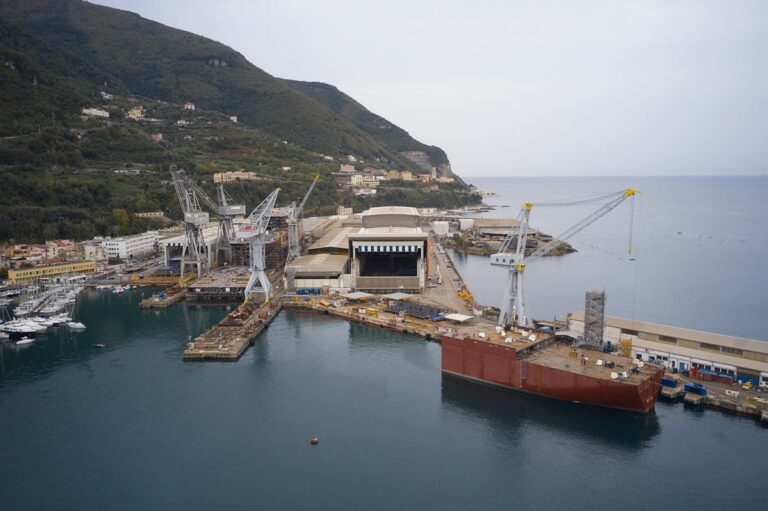 As informed, the steel cutting ceremony took place at Fincantieri's Castellammare di Stabia shipyard. This section will be part of the second LSS named Jacques Stosskopf, scheduled to be delivered in 2025. The first one, LSS Jacques Chevallier, is currently in final assembly at Saint-Nazaire shipyard.
The Franco-Italian LSS Programme led by OCCAR on behalf of DGA, the French Armament General Directorate, and its Italian counterpart, NAVARM, consists of the development and construction of five logistic support ships, along with the in-service support.
Fincantieri launched the forward section of the first LSS under the French Navy's FLOTLOG program in December last year.
With a capacity of 13,000 cbm, the newbuilds will provide logistical support to the combat vessels of the French Navy. They will carry fuel, ammunition, spare parts, as well as food for the vessels.
Compliant with international standards, their characteristics are adapted to their specific missions of support to the aviation group constituted around the aircraft carrier Charles de Gaulle, the flagship of the naval air force group.
The ships will be equipped with propulsion systems provided by US-based electrical engineering company GE Power Conversion.
The four supply ships are scheduled for delivery by 2029.