JFD wraps up NATO Golden Arrow submarine rescue exercise
UK-based engineering firm JFD has successfully completed a comprehensive submarine rescue exercise to mobilise the NATO Submarine Rescue System (NSRS).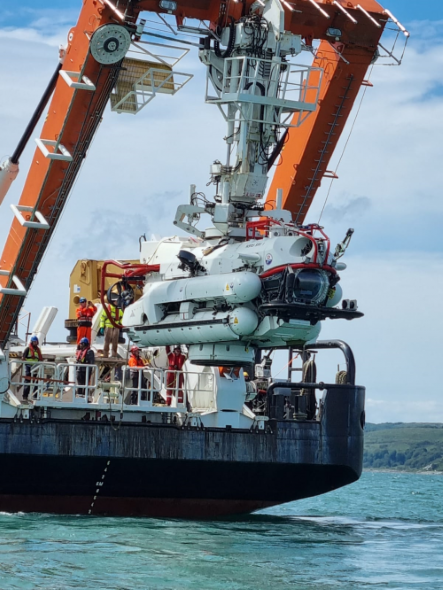 The exercise, titled Golden Arrow, took place following embarkation at King George V docks in Glasgow and operating within the waters off the west coast of Scotland vessel SD Northern River. It was the first deployment of the whole rescue spread since September 2019 and the first sea deployment of the new fibre optic video and voice communications network upgrade developed and installed by JFD.
The full rescue system was deployed including the submarine rescue vehicle (SRV), portable launch and recovery system (PLARS) and transfer under pressure (TUP) systems.
The company explained that new fibre optic communications system provided video communications between the MOSHIP submarine rescue vehicle and the DISSUB.
"Exercise GOLDEN ARROW 2021 enabled the NSRS team to return to its programme of rescue exercises after the interruption caused by the COVID-19 pandemic. Participation in such exercises ensures the teams operating the capability have practiced procedures and can operate effectively in the event of an operational submarine rescue situation anywhere in the world,"  Chris Baldwin, NSRS Operations Officer at the Submarine Delivery Agency, stated.
Golden Arrow successfully demonstrated the capability of the system between the vessel and the SRV providing clear video and voice communications between the MOSHIP and the SRV with the capability for communications down to 610 meters.
"This innovation allows submarine safety communications and the ability to pass vital information during rescue scenario clearly, giving the Rescue Element Commander, Medical Officer and Dive Supervisor eyes on interaction with Disabled Submarine (DISSUB) survivors," the company noted.
The initial five-year contract for the provision of the NSRS, which was signed with the UK Ministry of Defence (MOD) in 2020, was extended to 2023.
"Regular submarine intervention and rescue exercises are essential for ensuring equipment and personnel are able to respond effectively in the event of a submarine accident, and in as little time as possible. This becomes the ninth successful vessel based rescue exercise for JFD throughout the course of operating NSRS, reinforcing its responsibility in assuring the operations team is fully trained in all aspects of a safe rescue," JFD concluded.