PCG tests new weapon systems on six multi-role response vessels
The Philippine Coast Guard (PCG) has test-fired newly installed weapons system on six multi-role response vessels (MRRVs) off Mariveles, Bataan.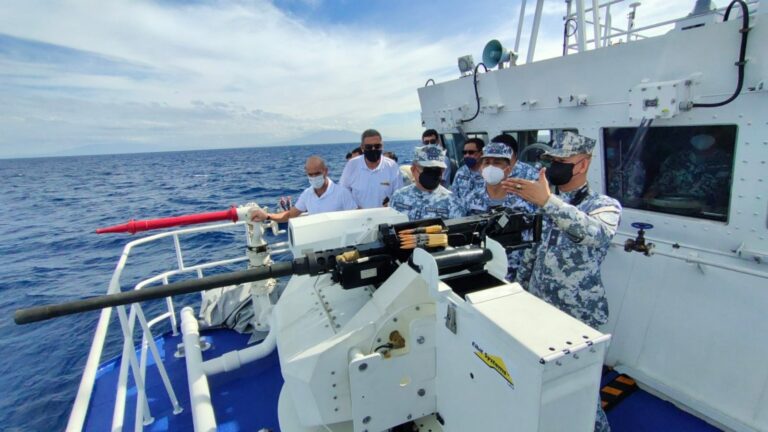 The demonstration took place on 11 February and was controlled over the Remote Controlled Weapon Station (RCWS). Six vessels that participated in the test-firing include BRP Tubbataha (MRRV-4401), BRP Malabrigo (MRRV-4402), BRP Suluan (MRRV-4406), BRP Sindangan (MRRV-4407), BRP Cape San Agustin (MRRV-4408), and BRP Cape Engaño (MRRV-4411).
The RCWS has target tracking capability for day and night applications. The stabilized weapon and optics enable enhanced target observation, positive recognition of targets, fire and tracking on-the-move, and targeting moving targets. Stabilization is enabled by using a dedicated array of gyros and electronics, according to the navy officials.
The Automatic Target Tracker assists the operator to acquire targets. Typical targets are fast ships and boats and aircraft, such as helicopters and low speed aircraft. Target acquisition is performed via either one of the video channels connecting the day camera and night vision camera to the operating console under deck.
"Automated Target Tracking is possible via thermal channels, with the camera set to narrow the field of view. These capabilities implemented on fully stabilized platforms allow the operator to perform accurate aiming, firing, and achieving high FRHP (First Round Hit Probability) on marine, shore, and even several types of aerial targets, as well as on maneuvering vessel in high sea conditions," the press office said.
During the capability demonstration, CG Vice Admiral Eduardo Fabricante expressed that he was satisfied with the functionality of the newly installed RCWS. He also discussed the plan to install the same weapon system in all capital ships of the PCG.
"This … weapon system will significantly enhance our performance of maritime law enforcement operations in the country's waters. This will also allow us to better support the Armed Forces of the Philippines (AFP), Philippine Drug Enforcement Agency (PDEA), Bureau of Customs (BOC), and other government agencies that are addressing terrorism, illegal drugs, and smuggling," the PCG Officer-in-Charge furthered."
The PCG and Israel's Ministry of Defense collaborated on the acquisition of RCWS in December 2018.
The pre-delivery inspection was held in August 2020. The delivery of the 24 units of .50 caliber heavy machine gun took place in November 2020.
Together with representatives from the Israel Military Industries (IMI) – Elbit Systems Ltd., the PCG commenced the installation of eight RCWS on eight PCG vessels in October 2021.
The entire installation was completed in December 2021.