US Navy's 1st Snakehead LDUUV prototype christened
A US Navy team led by the Naval Undersea Warfare Center (NUWC) Division Newport and the Program Executive Office for Unmanned and Small Combatants (PEO USC) conducted a vehicle christening for the first Snakehead large displacement unmanned undersea vehicle (LDUUV) prototype on 2 February.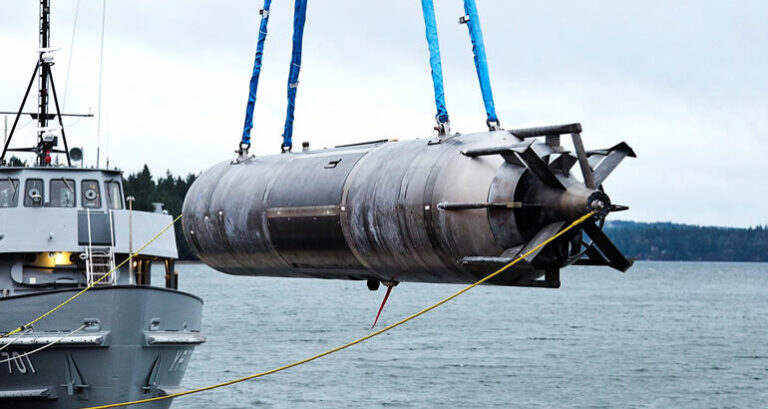 Snakehead, which was christened at the Narragansett Bay Test Facility in Newport, is a modular, reconfigurable, multi-mission LDUUV deployed from submarine large ocean interfaces.
The vessel is equipped with a government-owned architecture, mission autonomy capabilities and vehicle software, employing innovation in the areas of hull materials and lithium-ion battery certification, according to the navy officials.
American defence company General Atomics Electromagnetic Systems has been contracted to develop and demonstrate a prototype lithium-ion fault tolerant (LiFT) battery system for the US Navy's Snakehead LDUUV. The LiFT battery system will power the LDUUV's propulsion and support systems.
Deployed from a submarine dry deck shelter, Snakehead provides guidance and control, navigation, situational awareness, propulsion, maneuvering and sensors in support of undersea missions.
The US Navy continues to invest in a family of unmanned undersea vehicles (UUVs) to meet the mission requirements for maintaining undersea domain superiority.
Snakehead is the Navy's largest submarine-launched UUV, providing increased endurance, depth capability, and payload capacity beyond small and medium UUVs.
PEO USC is responsible for driving the majority of the navy's acquisition, development, delivery and sustainment of unmanned surface and undersea platforms, along with the development of key enabling technologies to support advanced autonomy operations.