US Navy takes delivery of new Virginia-class submarine USS Oregon
General Dynamics Electric Boat has delivered the nuclear-powered attack submarine Oregon (SSN 793) to the US Navy on 26 February.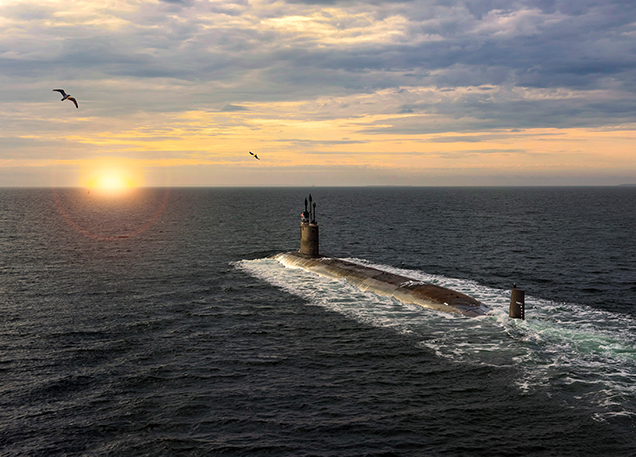 The vessel is the 20th submarine of the Virginia class co-produced at General Dynamics Electric Boat and Huntington Ingalls Industries – Newport News Shipbuilding (HII-NNS) through a long-standing teaming agreement.
USS Oregon is the eleventh Virginia Class delivered by GDEB and the second Block IV configured submarine.
Sea trials for the unit, directed by US Navy Adm. Frank Caldwell Jr., director – Naval Nuclear Propulsion, began in December 2021. The trials included a range of submarine and propulsion-plant operations, submerging for the first time, and high-speed runs on and below the surface to demonstrate that the ship's propulsion plant is fully mission-capable.
"Oregon is the second of the 10-ship group of Virginia-class submarines known as the Block IV series, continuing a whole new level of capability for the Virginia Class. Increased stealth, improved surveillance and design changes that increase the component-level lifecycle of the submarine and reduce total ownership cost are the hallmarks of this newest attack submarine," according to the company.
"By making these smaller-scale design changes to increase the component-level lifecycle of the submarine, the Navy will increase the periodicity between depot maintenance abilities and increase the number of deployments."
Virginia-class submarines displace 7,835 tons, with a hull length of 114.9 meters and a diameter of 10.3 meters. They are capable of speeds in excess of 25 knots and can dive to a depth greater than 243.8 meters, while carrying Mark 48 advanced capability torpedoes and Tomahawk cruise missiles.
They are built to operate in the world's littoral and deep waters while conducting anti-submarine warfare; anti-surface ship warfare; strike warfare; special operations forces support; intelligence, surveillance and reconnaissance; irregular warfare; and mine warfare missions.
Blocks I-III of Virginia-class submarines are planned to undergo four depot maintenance availabilities and conduct 14 deployments, while Block IV design changes are intended to reduce these planned availabilities by one to three, increasing deployments to 15, the firm concluded.
Follow Naval Today on: