Australia welcomes first evolved Cape-class patrol vessel
The Royal Australian Navy has taken delivery of the first evolved Cape class patrol boat built by defence contractor Austal.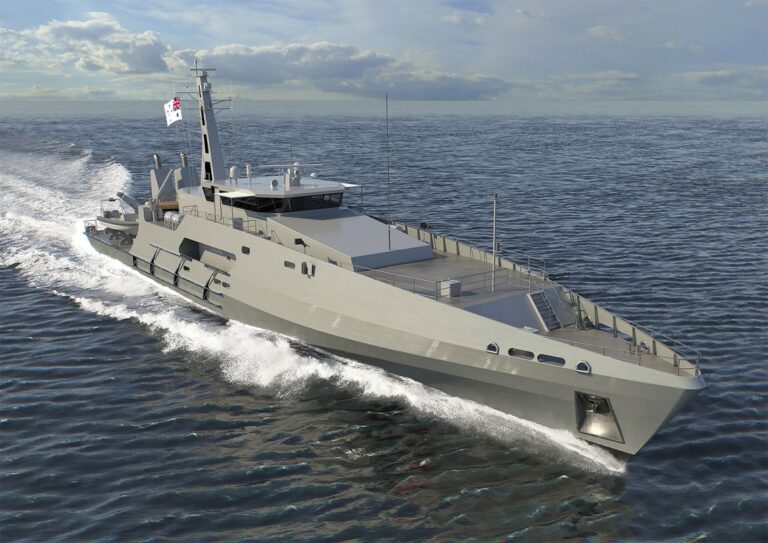 The handover ceremony took place at Austal's shipyard in Henderson, Western Australia today (23 March). The vessel, which was launched last October, is the first of six Australian evolved Cape-class patrol vessels.
"The six vessels will boost navy's current patrol boat capability as we await the introduction into service of the newer and larger Arafura class offshore patrol vessels. We are now one boat closer to establishing that vital capability," the country's defense minister Peter Dutton commented.
"The new patrol boats will also be the first vessels to be maintained at Regional Maintenance Centre North East, in Cairns. This further develops sovereign sustainment capability and promotes Australian industry involvement," he added.
During the ceremony, the Chief of Navy, Vice Admiral Michael Noonan, revealed the names of the six new vessels.
"They will be named Australian Defence Vessels (ADV) Cape Otway, Cape Peron, Cape Naturaliste, Cape Capricorn, Cape Woolamai and Cape Pillar. Each name continues the lineage of the Cape class patrol boats, all named after significant Capes around Australia."
The first vessel Cape Otway, will be home-ported at HMAS Cairns by mid-2022. It will be joined by another evolved Cape class patrol boat and four Arafura class offshore patrol vessels by the end of 2028.
The second of the six evolved Cape class patrol boats will be formally accepted by Defence in July this year. The remaining boats are under construction at Henderson shipyard in Western Australia and the final boat is expected to be delivered by May 2023.
Follow Naval Today on: