Biden celebrates commissioning of US Navy's final Block III Virginia-class sub
President of the US Joseph R. Biden, Jr., and First Lady Jill Biden, the ship's sponsor, have celebrated the commissioning of the Virginia-class fast-attack submarine USS Delaware (SSN 791).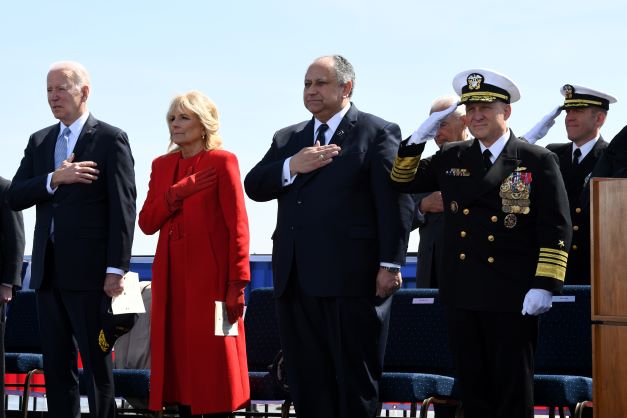 The commissioning ceremony took place on 2 April in Wilmington, Delaware. Due to COVID restrictions in place at the time, there was no traditional commissioning ceremony held when USS Delaware was commissioned administratively on 4 April 2020.
On that day, the submarine was underway and became the first US Navy ship commissioned while submerged.
The latest ceremony followed the script of traditional commissioning and was held in commemoration of the milestone.
As the ship sponsor, Jill Biden performed the traditional honor of calling for the crew to man the ship and "bring her to life", a ceremonial procession following the commemorative setting of the first watch.
"This vessel will always uphold the First State's motto of 'Liberty and Independence," she said.
USS Delaware is the 18th Virginia-class submarine built, as well as the eighth and final Block III Virginia-class sub.
The Block III submarines are notable for replacing 12 vertical launch tubes for Tomahawk land attack missiles (TLAM) with two larger, 87-inch diameter launch tubes, capable of carrying larger payloads, among other advancements.
USS Delaware is a flexible, multi-mission platform designed to carry out the seven core competencies of the submarine force — anti-submarine warfare; anti-surface warfare; delivery of special operations forces; strike warfare; irregular warfare; intelligence, surveillance and reconnaissance; and mine warfare.
The submarine is 377 feet long, has a 34-foot beam, and will be able to dive to depths greater than 800 feet and operate at speeds in excess of 25 knots submerged. It will operate for over 30 years without ever refueling.
Delaware's keel was laid April 30, 2016, and was christened during a ceremony in October 2018.