UK's first Type 31 frigate taking shape in Scotland
The construction of the Royal Navy's first Type 31 frigate HMS Venturer is making progress in Scotland, according to information provided by UK officials.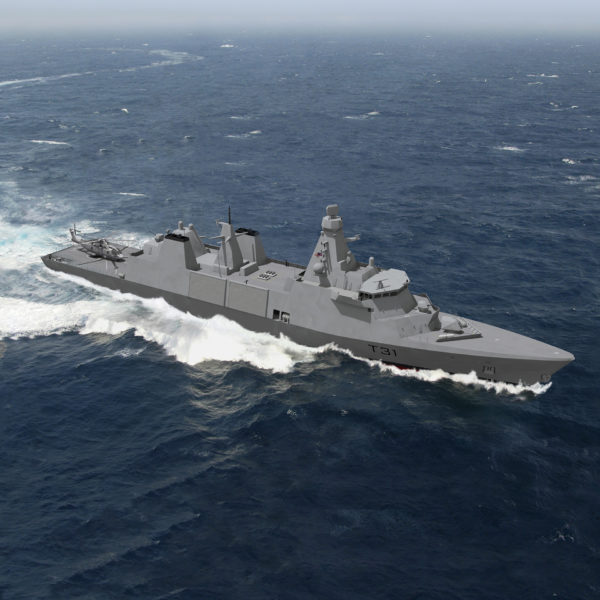 Last month, Royal Navy's First Sea Lord Admiral Sir Ben Key delivered a speech outlining his vision for the navy to 2035 in the new assembly hall at Rosyth on the Forth, noting "that this is the hall where the first Type 31 frigate HMS Venturer is taking shape".
The officials were pleased to see the progress being made regarding the works on the new frigates.
In September last year, Babcock International officially started the construction of the first vessel, HMS Venturer. The steel cutting ceremony took place in Babcock's facility in Rosyth.
Steel for the Type 31 frigates has been sourced by Babcock from Kloeckner Metals, an Exeter-based steel stockist, according to the UK's Minister of State for Defence Procurement Jeremy Quin.
After asked about what proportion of steel used in the Type 31 frigates is sourced from UK companies, he stated that the thin plate with the required combination of thickness, size and flatness specifications required for Type 31 is not manufactured in the UK. This type of steel comprises the majority of the steel required to construct the Type 31 class.
He also added that the steel is procured "in accordance with Cabinet Office guidelines and steel for major defence programmes is generally sourced by prime contractors from a range of UK and international suppliers."
"Many defence programmes require specialised steels that are not currently manufactured in the UK; nevertheless, we encourage the sourcing of UK steel wherever it is technically and commercially feasible," Quin pointed out.
The Type 31 frigates (Inspiration-class) will replace five general-purpose Type 23 frigates that have served the navy since the early 1990s. The Royal Navy has picked Babcock's Arrowhead 140 proposal as the preferred design for its Type 31 frigates. The fleet of five ships will be built at an average production cost of £250 million per ship.
Each of the ships will be equipped with the Sea Ceptor air defence missile system, a 57mm main gun and two 40mm Bofors, a 4D radar and carry a helicopter up to Merlin size.
They will also be able to carry the planned, persistent operational delivery systems (PODS), a "plug and play box of tricks" carrying drones, autonomous mine-hunting equipment, a command center for commando raiders, or humanitarian aid.
The new frigates are scheduled to enter service in 2027.