Indian Navy launches final Scorpene-class submarine
The Indian Navy has launched its sixth and final Scorpene-class submarine INS Vagsheer.
The launching ceremony took place at Mazagon Dock Shipbuilders Limited (MDL) shipyard in Mumbai today (20 April). The vessel was launched by Indian Defence Secretary Ajay Kumar.
Post-launch, the submarine will undergo sea trials before the final commissioning. INS Vagsheer, named after sandfish, is the second vessel to bear this name as part of the Indian Navy. The first submarine Vagsheer was decommissioned in 1997.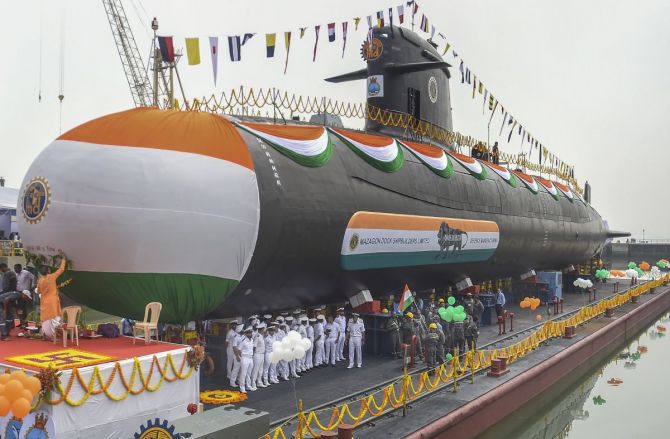 In February this year, the fifth submarine in the class, INS Vagir, commenced sea trials.
The Scorpene-class submarines have been completely built by Mazagon Dock Shipbuilders Limited through a transfer of technology from Naval Group, in line with Indian Government's "Make in India" policy.
Scorpene-class units are 67.5 meters long with a height of about 12.3 meters. They are fitted with 360 battery cells (each weighing 750 kg) powering the permanently magnetized propulsion motor.
Equipped with the submarine tactical integrated combat system (SUBTICS), sea-skimming SM 39 Exocet missiles or the heavyweight wire-guided surface and underwater target (SUT) torpedoes, they can undertake multifarious tasks which include anti-surface as well as anti­ submarine warfare.
The first submarine from the batch, INS Kalvari, was commissioned in December 2017 and the second, INS Khanderi, in September 2019.