Turkish Navy's second Reis-class submarine hits the water
Turkey is pushing forward with the development of its submarine program, having witnessed the launching ceremony of the second Reis-class (Type 214), the future TCG Hizir Reis.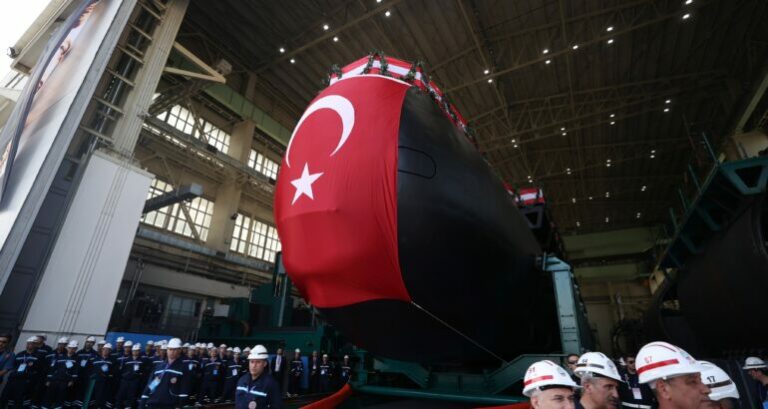 The launching ceremony, which took place on 23 May at Gölcük Shipyard in northwestern Turkey, was attended by Turkish President Recep Tayyip Erdoğan.
Speaking at the ceremony, the president revealed the country's plans to introduce one Reis-class submarine each year so that the Turkish Navy will have six new submarines in service by 2027.
The new vessels are approximately 68.5 meters long and can reach a speed of 20 knots while submerged.
"Our submarines, which weigh 1,856 tons above water and 2,042 tons underwater, can dive into a depth of more than 300 meters. Our submarines, which can operate underwater for three days, can stay in the water for 12 weeks without replenishment," the president stated.
"The submarines, equipped with effective weapons against underwater, surface and land targets, can fire various types of torpedoes, missiles and mines. We are also integrating our Akya national torpedo and Atmaca national anti-ship missile into our submarines with air-independent propulsion."
The first vessel, TCG Piri Reis, was launched in December 2019.
The second vessel TCG Hizir Reis submarine is slated for delivery in 2023, and the last submarine TCG Selman Reis by 2027.
To remind, Turkey is building a fleet of six new Type 214 air-independent propulsion submarines under a contract signed with German ThyssenKrupp Marine Systems (TKMS) in 2009.
Type 214 submarines are export versions of the Type 212 submarine in service with the navies of Italy and Germany, and Norway, and are built or operated by the navies of Greece, Republic of Korea, Portugal and Turkey.
Follow Naval Today on: